Local Appliance Rentals
LAR Franchise
Consumer Hire Business

The LAR Franchise provides you with a flexible
home-based business opportunity
The LAR Franchise is a successful Consumer Hire Business. Established for 10 years with 150+ franchisees in only 5 years of franchising LAR are now looking for another 50 franchisees in 2017!
The LAR Franchise Opportunity:
Local Appliance Rentals (LAR) are the obvious first choice experts in consumer hire, renting anything and everything from appliances, TVs, electronics, furniture, to gaming and bedding over 24 months. You name it, they rent it with small weekly affordable payments. Customer care is paramount. LAR want to build a long-term relationship with their customers.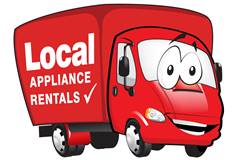 Franchisees act as the bank. They purchase the goods through local suppliers with their working capital. Those suppliers then typically deliver the item to the customer. No heavy lifting required! Franchisees are paid weekly from all rental receipts.
This franchise has minimal overheads, low staff numbers and huge demand in a proven unsaturated market.
The UK boasts 50+ LAR Franchisees. 5 top performing UK franchisees have already achieved first year profits of £200k on an accrual basis. Many others are not too far behind.
Earning Potential:

This is a high return franchise with expected earnings exceeding £300k from 500 customers after two years of growth. All this from a £50k - £100k investment which is spread as you grow in your first 12 months especially.
Earn a £25k salary in the first year and £50k in the second year until dividends kick in after 24 months. Why not look for a buyer at circa 3 times earnings after minimum 2 years or LAR can discuss potential buybacks at 2 times earnings once certain KPIs are in place after 2 years of established operation.
LAR will tailor a business to the 100% owner/operator working from home as a 'mobile operation', to the passive investor wanting to utilise Head Office's expertise for passive returns starting from £100k investment levels.

Training and Support:
3 Days online module training from your home is comprehensive and first of its kind on a global scale. Modules include policies and procedures, sales & marketing, and SAFRA software. Once operational, permanent genuine, ground level support is encouraged every day. The results speak for themselves with many franchisees owning 3-5 territories over time indicating the model is highly scalable.
Is the LAR Consumer Hire Business for you?
LAR welcomes all expressions of interest. LAR is looking for new energetic partners with an appetite for growth and success. Enquire today to reserve your territory as this franchise is moving exceptionally fast!
Find out more about the LAR Franchise, the successful and expanding Consumer Hire Business. Click the button below now!