Scoop Dotty Dog, April 2016
April 2016
This month we hear from Charlie Clift, founder of the new and exciting Scoop Dotty Dog Franchise. Find out what made Charlie decide to start the Scoop Dotty Dog Business and how her success has led to this exciting franchise opportunity.
To find out more about the Scoop Dotty Dog Franchise click here to visit their profile page.
What if? That was a question I kept asking myself. What if I just took control of my own destiny?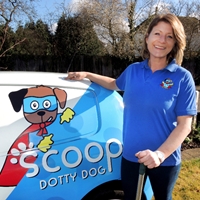 I've worked in a variety of settings but predominantly office environments. I loved every single one of my employee positions but it was always made very apparent that you were there to earn the company money. That every day you need to prove how you are an asset to them and to continue to go above and beyond your job role to ensure continued employment. To be able to increase your income wasn't easy, overtime was not available and promotions were few and far between but still you would have to increase your work load to show your worth.
What if?
What if I put this much time and effort into my own business? To grow something for myself! For my family! To be able to increase my income yet still be able to go to my child's sports day? What if I could have it all? A work life balance whilst still earning a healthy income?
For years it bubbled inside, thinking up business ideas and how to do it. How do I leave my steady income to risk a start up? How will I pay the bills and what will happen if it doesn't work? I'm a one parent family! I have only my income to rely on! How? How? How?
In the end I asked myself these questions.
1. Do I continue where I am, always feeling trapped and never going anywhere; or
2. Do I take the risk and put my heart and soul into building my very own business.
For me it got to a point where there was no question about the answer anymore. It had to be number 2. I had to just go for it.
The first couple of months were terrifying
Starting from scratch I took the idea of Scoop Dotty Dog and worked out how many customers I would need to be able to scrape a living. The first couple of months were terrifying, I didn't know where to start with marketing nor the best way to get the services out there, but with friends and family all posting on social media I gained my very first few clients.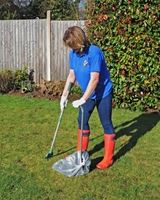 A friend helped design the logo and the branding. From there it snowballed, clients were talking about it, people were genuinely very interested and amazed that this service was now available. As time went by I perfected the service and the concept started selling itself.
I built great relationships with local dog boarders and attended all the dog events to see what their provisions were for dog waste removal.
I grew from just scooping personal gardens to offering temporary bins at events to putting in tenders for park bin changes and working along-side local authorities to assist with both dog boarders business waste and community clean ups.
I couldn't believe I'd done it!!
I had replaced my permanent wage in a matter of months. I fitted all my clients around my life too. My son no longer had to go to breakfast club and I was the proudest mum at sports day. Not only for him, but for me too.
It then occurred to me that if I can do this on my own, then how wonderful would it be to be able to give this opportunity to others. How great would it be if I can help other families achieve a substantial income whilst not missing out on the little life events? I have done all the ground work, I've taken the risks and proven this.
The business really works.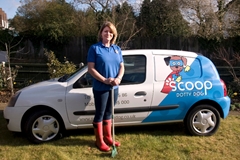 I had clients calling from out of area all the time but because they are too far away I could not service them. What if there was a Scoop Dotty Dog service available in all areas? What if we can assist the public in an ever increasing demand and also provide other people the freedom and flexibility by running their very own business?
This is what bore the Scoop Dotty Dog Franchise opportunity.
I pride myself on ensuring that Scoop Dotty Dog is a family run and family orientated business. We are successful because we put our all into helping each individual franchise grow. To providing an outstanding service and to achieving a national coverage.
The Scoop Dotty Dog franchise opportunity wasn't started because of me! It was because of you! It was to be able to share the opportunity and to allow others the chance to change their destiny too.