Little Squigglers, March 2016
March 2016
This month we hear from Amanda Wigzell, Founder of The Little Squigglers Franchise. Find out what inspired Amanda to start her own Children's Arts & Crafts Business after twelve years as a primary school teacher.
To find out more about the Little Squigglers Franchise click here to visit their profile page.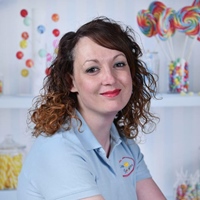 I launched Little Squigglers whilst on maternity leave with my second child. I had been looking for messy play or craft sessions to take my young children along to and there was just nothing available so I came up with the idea of starting my own classes.
I had been working as a primary school teacher for 12 years and in my heart I knew I didn't want to continue with that career but wanted to continue working with children and having a positive impact on their lives.
It all came together perfectly at just the right time. It was jolly hard work but I was soon making a name for myself locally and had a waiting list for my classes.
Running Little Squigglers had given me such a better way of life than my teaching career.
I had made mistakes along the way and had worked so hard to perfect the formula of my classes I started investigating franchising.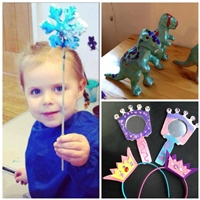 I was making decisions based on my family and my business and I wanted to bring that freedom- along with the fun I was having- to other women like me.
Franchising was a perfect route for me. I could help others to replicate every aspect of the Little Squigglers business, use my already proven methods and branding to help others start their own Little Squigglers classes with relative ease.
It was also really important to me to allow others to buy into the franchise for a low cost, the cost of our franchise is less than what it cost me to start up from scratch, except the expensive mistakes have already been made!
The benefits of the franchise
With a franchise the plans and format are in place, you are fully trained to succeed, the marketing and website are all in place, alongside strong branding and a growing network. With a franchise you own your own business and make your own decisions, but you have a support network there when you need it and a proven business model to work with. Essentially you are in business for yourself but not by yourself!
A huge variety of those who enquire about a Little Squigglers franchise are women, many with experience of working with children and all looking for a change of career and focus.
Our franchise allows women to build up their own successful business around the changing needs of their families.
By setting their own hours and choosing when to work our franchisees can be there for things like sports days, parents evening or even just the school run. It is also a great business to involve all the family- our franchisees children love getting involved making playdough and trialling crafts!
Those women who join us are looking for a rewarding and fun career which can challenge them but still fit around family life- we think it offers a perfect career option for committed individuals who are driven to succeed and passionate about working with children.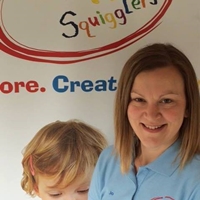 Jo Rayson took over our West Suffolk franchise last year, after a long career in teaching. Jo had experienced the classes with her own children and was looking for a new direction in her life, having recently lost her mum.
Jo has made Little Squigglers work for her family, she says "Being a working mum is never easy, but as I am fortunate to work for myself I am able to work around my family. My girls love that they can help me create examples for my classes and will always want to come and join in with the holiday classes and weekend specials that I offer.
I love going to work, seeing the children and everything Little Squigglers offers me. I have never looked back!" Jo is currently shortlisted for Franchisee of the Year in the Working Mums Top Franchise Awards and we and her family are so proud of all she has achieved in such a short space of time.
Being an experienced primary school teacher does not mean you are the person we are looking for!
Experience has taught me that a Little Squigglers franchise isn't for everyone.
The most important thing for us is the personality of the candidates, the ability to lead a class and interact with parents and children is paramount. We often say that you have to have the ability to go into CBeebies Presenter mode!
I am loving my role as the franchisor for Little Squigglers and am passionate about finding the right people to help grow the brand I have developed. The aim over the next few years is to rapidly expand the network, helping many more people start a business they love and become a national brand. Having recently been shortlisted for Business Mum of the Year- the sky is the limit!
Find out more about the Little Squigglers Franchise and request a FREE Information Pack now!