A fun, new and exciting home-based opportunity that is launching in the UK!
Like most Kiwi success stories, the Giggle Licence started in a garage. This one was in a small town in New Zealand in 2008. Giggle is now taking the globe by storm!
Strengths of the Giggle Business Model:
Recurring income
Lifestyle
No staff*
High gross profit
Scalable to any size you want
Low fees
First to market opportunity
A licence NOT a franchise.
Cloud based and tech savvy..
and most importantly... it's FUN!
Literally a business in a box with funding support available!
We are only on this earth for a short time, so what we do every day should inspire us to get out of bed each day. Giggle is about real Giggle Business Owners helping real local business owners, so the enthusiasm is genuine and doing business is more enjoyable for everyone.
What is Giggle?
No matter where in the world you go, no one likes waiting, people love to laugh, and businesses want more affordable marketing.
Giggle have created a global entertainment network with a constantly captive audience. They make people laugh.
Giggle install screens in areas of wait such as cafes, gyms, food outlets, bars, waiting rooms, transportation systems - you name it.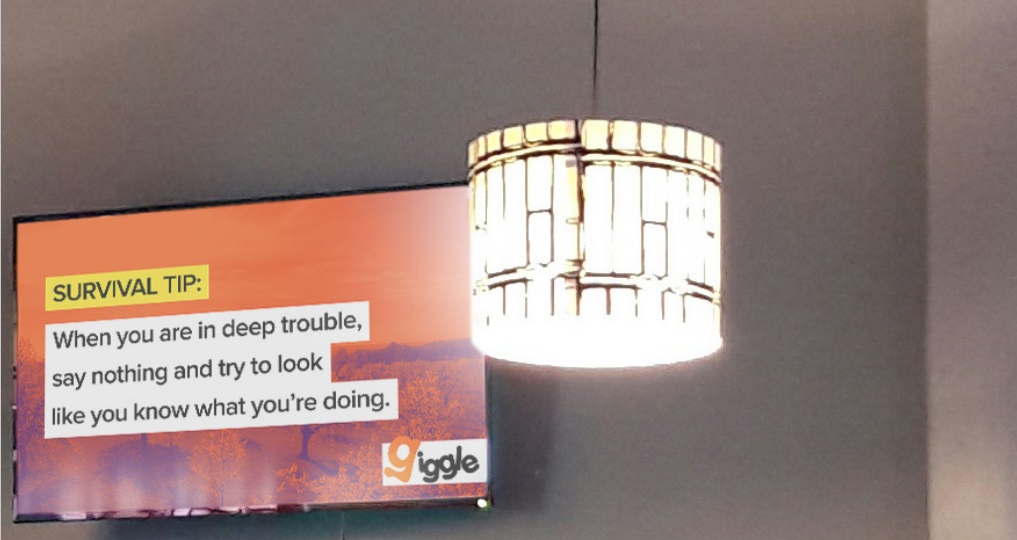 Giggle has owned the New Zealand market and are now launching in the UK, this is a first to market opportunity. A licence not a franchise so none of the restrictions or royalty fees!
Giggle have two beliefs:
They believe there is too much bad news in the world
Small to medium enterprise pay WAY too much for marketing
Giggle make people laugh so viewers stay engaged in the screen. The screens play's a silent loop of G-rated humorous content, entertaining otherwise impatient customers.
Interspersed with the sticky content are commercial messages for local businesses. This has created a very affordable medium for local businesses to deliver brand messages repetitively 1000's of time a day to an engaged audience. Marketing on Giggle works! They have clients that have been using them for over 10 years!

So, is a Giggle Business for you?
Giggle is a fun and unique business in a box opportunity which provides residual income. The concept is simple to understand, the medium is trending, and their growth is through the roof. Built it to any size you want.
Attitude is key to success and at Giggle they seek out partners who are determined to take charge of their own destiny and need a tool to allow them to do that. Being a little quirky, and oozing positivity will help you on your way.
Running a successful Giggle Business is not about your marketing skills or having a business degree. It's about communication, motivation, using the proven systems they have already built and being open to learning.
Giggle will provide you with the recipe, the ingredients, baking tin and even the secret sauce, the size and profitability of your Giggle business is directly down to your input.
Find out more about this exciting first to market opportunity by clicking below now!