With the Fun Little Foodies Business opportunity you can run a fun and rewarding Children's Cookery Club Franchise.
There are other companies and organisations in the market offering a range of cooking clubs for children. However, Fun Little Foodies believe that they are offering a 'Gold Standard' as their clubs are popular with children and their parents and provide a happy, safe and healthy environment where children can flourish.
Children's activity classes is a growing market in the UK and there is a huge push for healthy lifestyles. Cooking is the cornerstone of this and Fun Little Foodies believe that starting their journey as youngsters is the key to a happy and healthy future for all of our children
The Fun Little Foodies Business Opportunity: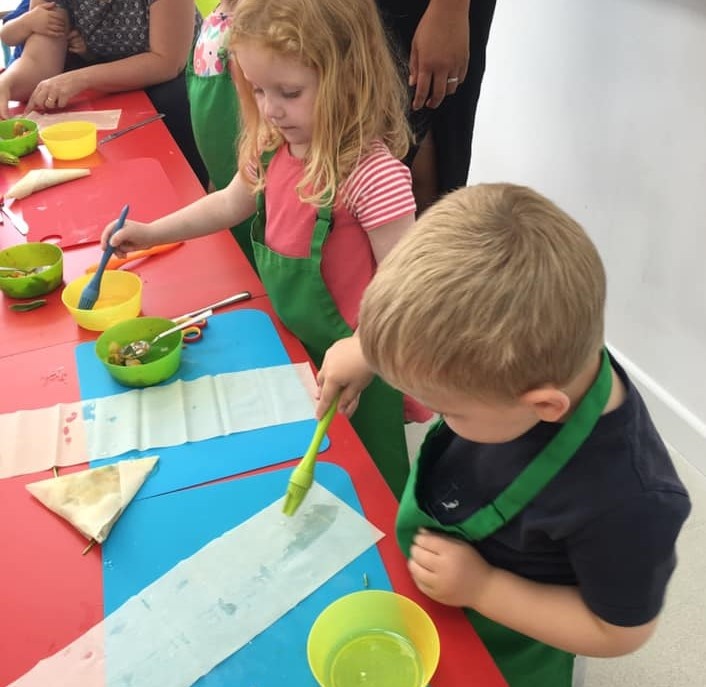 Fun Little Foodies want people to be involved with franchisees who share their passion for getting kids involved and interested in food and cooking.
They believe that the Fun Little Foodies franchise is a fantastic business to be involved in both from a lifestyle and financial perspective.
A Fun Little Foodies Franchisee has the best of both worlds – autonomy over their class schedule and working hours but with the support of the company directors who will be their mentors every step of the way.
One of the fantastic things about a Fun Little Foodies Franchisee is the variety of income streams available. Preschool classes have always been a popular choice for their customers, as well as after school clubs.
If you would prefer weekend work, birthday parties are also a popular and lucrative option as are school holiday classes.
Now that cooking and nutrition is on the Primary curriculum, school workshops are becoming increasingly popular and they expect that trend to continue to increase.
Fun Little Foodies help as much as they can in every way and can assist with marketing to schools and pass on general enquiries to the relevant franchisee.
It is expected that franchisees will work hard to market their classes and workshops and make their own contacts for their area.
Why choose Fun Little Foodies?

High quality service that is child focused
Catering to the needs of parents, children, nurseries and schools
Great value for money
The business format is highly systemised to ensure that it can be replicated at the same high standards
Franchisees and staff receive intensive training and ongoing support
Comprehensive equipment package and marketing materials
The business model has been developed to be suited to an owner operator and all of their franchisees are expected to take an active involvement in the business
Low cost franchise fee and start-up costs
A great return on investment
How much can I earn?

There are various income streams available to franchisees. Each full class (based on 10 children) can generate a revenue of around £70 and a net profit of around £50 so you could make around £150 per day. Franchisees can also have the potential to earn around £300-400 per day from parties and school workshops.

Do you need any qualifications?

Paediatric first aid and food hygiene level 2 and allergy awareness training will be required, this is included within the training package. Enhance DBS clearance is also required, Fun Little Foodies can organise this if required.

Training and Support:
Training can be provided over a 3 day period, either consecutively or over a time period depending on your circumstance. Franchisees will also be able to:
Observe a class (video training can be provided, face to face is better)
Shadow a class leader
Lead different elements of a class before leading a full class
Training will be provided on using, cleaning and maintaining equipment
First aid and Food hygiene training (via 3rd party provider)
Training on using the Operations Manual, accounts, business admin, marketing, social media
The Investment:
The franchise fee is £4,995. Each Fun Little Foodies Franchisee will receive a comprehensive starter equipment package including:
marketing materials
page on the Fun Little Foodies website,
recipes
lesson plans so you are ready to go straight after their training is completed.
Could you run your own Children's Cookery Club Franchise?
Franchisees have been profit making since their first month and are loving their new jobs. Fun Little Foodies are looking for friendly, enthusiastic and organised people who have a passion for cooking and food and who love working with children. They are an extremely supportive and friendly network of colleagues, they know you will love being part of their Foodies family!
Find out more about the Fun Little Foodies Business opportunity and joining a fun and rewarding Children's Cookery Club Franchise. Click below now!

Why

Choose Us

An opportunity to work within a growing industry – food and nutrition is increasingly in the public eye and it's inclusion in the Primary Curriculum Is increasing demand for school workshops.

An opportunity to work within a small, intimate network of Franchisees, all with a passion for Fun Little Foodies!

A proven successful business model which provides job satisfaction in abundance and financial rewards through various income streams.
Related

Franchise Categories
Related

Franchise Types