Due to the amazing success of Cricket tots they are now expanding throughout the UK.
Since Cricket tots was established in 2016, the support and recognition they have gained from the industry has been incredible. Moreover, they are members of ukactive Kids and have earned Gold accreditation status by the Children's Activities Association, both high valued seals of recognition to give parents peace of mind.
What are the main services offered by the business?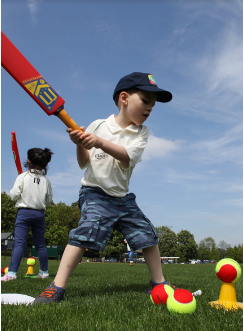 Cricket tots is the first stop for children looking to enjoy the dazzling world of cricket. Classes focus on 2 ½ -5 year olds, in an environment that nurtures development and curates their pivotal first experiences of being part of a team.
Cricket tots has found that franchising reduces a lot of the risk involved in starting a business because you are buying the experience and marketing expertise of the franchisor. It's an established service which already operates successfully.
Everything from the brand, systems and processes are tried, tested and proven so you can replicate the exact same business model as them. Alongside the classes, Cricket tots can run cricket parties too. They also encourage franchisees to give back to the community, running classes for local nurseries and community groups.
How long has the franchise been established and how developed is the franchise network?
Established in 2016, Cricket tots has been steadily building throughout the UK, with classes running in four locations in north-west London and also Blackburn. The franchise has also launched clubs in Australia and most recently, Barbados.
What makes this franchise stand out from competitors?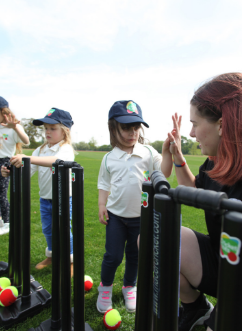 The franchise package has been developed with the aim of providing franchisees with all the knowledge, information and support to launch a successful Children's Cricket Franchise that not only has a clear return on investment but is also highly competitive in the market.
The Cricket tots team has a network of dedicated professionals from coaches, cricketers, business owners and marketers ready to support new franchise owners.
But what sets the franchise apart is the continual focus on running and creating franchise clubs that focus on the development of children in sport and the advantages that brings to their development.
What would be my main roles as a franchise owner?
The fundamental bones of the Cricket tots franchisee is ensuring the lead coach is fully qualified (ECB Level 2), the right venue is selected to hold the classes, and be integral to the promotion of their classes, encouraging sign ups and making sure all the classes run smoothly. The franchisee can choose to be the lead coach and get qualified if they so wish, and no prior experience is required.
What does a typical day involve for a franchisee?
A typical day will involve ensuring the classes are running smoothly, networking with parents to encourage sign ups, recruiting new coaches, sourcing venues and keeping an eye on how many children there are in each class.
The franchise package has been developed with the aim of providing franchisees with all the knowledge, information and support to launch a successful business that not only has a clear return on investment but is also highly competitive in the market.
Can I balance running the business around my family activities or other commitments?
Yes! That's the joy in being your own boss! Enjoy the security of a supportive, experienced network to balance your commitments outside of Cricket tots. The times and locations of all classes is up to you, and if a time or location isn't working, you can change it the next term. There is total flexibility.
What qualifications or experience do I need?
You don't need to have qualifications. Cricket tots are looking for are people who share their passion for what they do!
You must be determined to succeed, love working with children. Cricket tots can facilitate cricket training for you if you would like to get up to speed with the game, teaching skills, and how to run classes, all of which is part of your on boarding process.
They also offer the opportunity to gain an official qualification with the ECB which can help you run a successful class. Please note, the lead coach is required to have the ECB qualification.
What training is provided?
You will get comprehensive initial training and launch support including practical and business training, follow up field visits and practical evaluation from Head Office (The field visits ensure you're comfortable and happy with how your classes are progressing.)
Moreover, Cricket tots provide practical evaluation and assessments by their coaches, the opportunity to shadow current Coaches to understand how classes are run and quarterly reviews of classes to encourage knowledge share.
What sort of benefits might I realise once the business has matured?
That all depends on how hard you want to work. If you share the passion and determination to make this a success, your business will grow from strength to strength.
Cricket tots are constantly looking at innovative ways to implement additional revenue streams. Current opportunities lie in merchandise, parties and additional summer sessions. But watch this space!
Find out more about the Cricket tots Business and running your own Children's Cricket Franchise. Click below now!