Dreaming Big at Razzamataz Franchise Conference
10th February 2017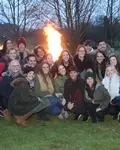 Getting ready to Fire Walk
If you run your own business or have aspirations to do so, you will know that the age old saying that genius is one percent inspiration and ninety-nine percent perspiration is definitely true.
To be successful, you will need to dig deep, push outside of your comfort zone and do what you never thought possible. So, this year's Conference theme #BelieveInYou was fitting as a motivational moto for the Razzamataz students as well as the franchisees.
Razzamataz Theatre Schools takes pride in supporting all Principals during their whole journey with the franchise business. From those that have just started out to those that are enjoying more than ten years as Razzamataz Principals, the Conference is a wonderful opportunity for everyone to gain new skills and bring back lots of new ideas to implement in their own schools.
The highlight for many at this year's Conference was a motivational session led by Brian Costello from Headstrong, accumulating in a Fire Walk. So how do you teach someone to walk on fire? The answer was to get them to do something else totally outside of their comfort zone, in this case break a wooden spear with their neck.
Kayleigh Redford, Principal of Razzamataz Newcastle, says:
"I pushed myself way out of my comfort zone and I think I experienced every emotion possible from nerves and fear to excitement and happiness. I learnt so much, not only from the amazing guest speakers but from speaking to everyone in the Razzamataz family. Just goes to show you, Razzamataz positive life experiences are not just for the children."
The whole session was designed to show franchisees that in business, while we all fear and worry about doing certain things, we can overcome it if we have the right mindset and that is something that we can all work on. Many Principals reported that they will now go and tackle the things that are holding them and their business back to make for an exciting 2017.
To run a successful theatre school, a key ingredient is planning a meticulous marketing campaign. Razzamataz has been working with Michael Berkin, Founder and Managing Director of Professional Dance Experience for an number of years and was delighted to welcome him to the Conference to talk through the latest techniques to promote summer schools.
There are also a number of new Razzamataz products: Razz Fit and Razz Project Intense and the Conference was the perfect platform to showcase them both. The company is also delighted to launch a new Business Management System, aptly named RazzBiz.
Emma-Louise Campbell, Principal of Razzamataz Cambridge, says:
"All of the speakers were informative and I found Michael's talk on Summer School marketing particularly useful. It was great to review the year, find out the progress of RazzBiz following on from Regionals, as well as hearing more about Razz Fit and Razz Project Intense from Helen and Hayley. I know you said this Conference would be the best but this one really was the best - until next year of course!"
Throughout the Conference, there was a strong focus on dreaming big and stepping outside of your comfort zone. From the nitty gritty of cash flow through to supporting students in professional work by understanding the rules and regulations around child protection, there was advice and support around every area of theatre schools.
Helen Bell, Principal of Razzamataz Sheffield, says:
"Thank you for an amazing day, my favourite Conference yet. What a fantastic and unique opportunity to be given."
After such a busy day, another highlight this year was a wonderful evening performance by the students of Razzamataz Carlisle who were selected to entertain all the Principals during the Awards celebration, where they chose to perform mini musicals from both Matilda and Annie.
To conclude a truly wonderful day and night, the Awards ceremony was a chance for everyone to congratulate the franchisees on their successes of 2016.
The Franchisee of the Year Award is the much sought after award of the evening and the judges were looking for someone who shows above and beyond commitment. For the second year running, Hayley Limpkin, Principal of Razzamataz Medway was delighted to accept on behalf of her students and teachers.
Denise Hutton-Gosney, MD and Founder of Razzamataz, says:
"The winner of this Award never fails to surprise us and the visions, values and beliefs that our winner represents has created an environment where every one of her students and her team flourish. Hayley has an impeccable eye for detail and has the gift of sharing her experiences with our entire network in such an easy and approachable manner. No one can be in any doubt how passionate she is in creating the next generation of performers; you only need to see a snippet of one of her shows and you would think you were watching a Broadway blockbuster rather than a part time theatre school in Kent."
Winners:
Best New Franchisee: Kayleigh Redford from Newcastle
Brand Ambassador: Michael French from Barnet
BelieveInYou Award: Frances Nicholson from Hampstead
Rebecca Rennie Award for Outstanding Contribution: Pam Dixon from Dumfries and Charlotte Young from West Cumbria
Business Builder: Helen Bell from Sheffield
Best Marketing Campaign: Nick Furlong and Gemma Hextall from Sutton
One To Watch: Emma Louise Campbell from Cambridge
Best Showcase and Best Community Spirit Awards: Debbie Mitchell from Carlisle
Most Outstanding School and Best Team Member: Helen Bell, Sheffield
Best Customer Service: Alison Beveridge from Durham
Franchisee of The Year Award: Hayley Limpkin from Medway
If you want to find out more about becoming a franchisee of your own part-time Razzamataz Theatre School just click below to request your FREE franchise information pack
What

Our Franchisees Say

I specifically wanted to go for a franchise, and in particular Razzamataz because of the support from Head Office and other Principals. This is a network of theatre school owners so you are in business for yourself but not by yourself.Alison Beveridge, Razzamataz Durham.

I don't have a business background so after deciding to retire from professionally performing it was the memories of Razzamataz on Dragons' Den that set the wheels in motion. I was really inspired by the brand and the business model and because it is a franchise business we receive a lot of help and support from Head Office as well as on-going training so I can make Razzamataz Barnet the success that I believe it can be. In the last 12 months, I have doubled my student numbers in a very competitive market and I have now clear plans on how I would like my business to progress this year.Michael French, Razzamataz Barnet

It was 10 years ago that I left hairdressing and for anyone thinking that it is too late to change their careers I would say step out of your comfort zone and just do it. I never thought I would be able to and it's the best thing I have done and wished I'd done it years ago!Pam Dixon, Razzamataz Dumfries
Why

Choose Us

TWO franchises for the price of ONE!

Affordable part time performing arts lessons

One of Dragons Den most successful investments!
Related

Franchise Categories
Related

Franchise Types