Another Winning Combination for OSCAR Pet Foods
21st September 2018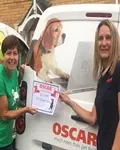 Holiday referall winner
OSCAR Pet Foods is never too far away from its customers, and always on hand when supporting the growth of an individual franchise business.
Referral schemes are a regular incentive, a great opening to new customers, and OSCAR offers a 'meaty' prize for the winner. A £1,000 holiday is not to be sniffed at and regular customers are encouraged to fill out the form.
It's as simple as that! For every recommendation made, the referred customer receives a free starter gift pack of food and treats, and the customer who makes the referral is entered into a free draw (drawn twice yearly) to win a pet-friendly holiday!
Michelle Roden's (OSCAR Nutritional Advisor from Wakefield) namesake rescue dog, Oscar, had a fear of the great outdoors, which was affecting his socialisation with others. Michelle called upon the handling services of Catherine Shore to help Oscar, which resulted in Catherine discovering OSCAR Pet Foods for her own two dogs.
The recommend a friend scheme offered by OSCAR is a win-win for everyone, and now a customer, Catherine had no hesitation in recommending its benefits to a friend – and say no more...
Catherine says:
"Cornwall here we come. All it took was to tell a friend about OSCAR – it's the best voucher I've ever filled in, and the first time in my life that I've won anything.
I have Michelle Roden to thank for her massive support in helping my dogs to thrive on OSCAR food. Louie was suffering from digestive problems and itchy skin, and Buddy's poor appetite was a worry – now he can't wait for meal times. But as a special treat, again thanks to OSCAR, we can all look forward to a family holiday.
Having already introduced three new customers to OSCAR, I will continue to recommend Michelle through my pet-related business. I see so many pets in need of OSCAR – and pet owners who would love to win a holiday!"
Find out more about OSCAR Pet Foods franchise opportunities by clicking below