Jeanette Runs Talking Tots West Sussex
Franchisee Case Study - Jeanette in West Sussex
Why did you choose franchising?
I was working part-time in London after having my twins and I was looking for an opportunity to work around school hours and holidays. I was fed up with the commuting and although my company was flexible, I was missing out on their development. I looked at franchising because I wanted to work for myself but with the comfort of having a proven business model to follow and support from others where I need it.
What did you do before taking up a Talking Tots franchise?
Before taking up Talking Tots I worked in a private bank. Over the years I had fulfilled several roles for the bank including selling insurance, contact centre management, product management, marketing and leading the complaints team.
What in particular attracted you to Talking Tots?
I was fascinated with how my children's speech and language developed and Talking Tots really linked in with this interest. I was looking at children's franchises and Talking Tots was the only one I found where there were real development benefits to the children who attend. It looked and felt different to the other classes available which seem to be quite one-dimensional. Talking Tots just does so much for children.
What do you enjoy most about running your Talking Tots business?
I love the time I spend with the children and their families. I meet interesting and lovely people all the time. It's so rewarding when children first 'get' something and the pride on parent's faces when their little one does well is wonderful.
What Initial Training and support did/do you receive from Head Office?
Before I set up any classes, I attended an in-depth training course where I learned and practiced how to deliver the classes. The course also included lots of information about the reason for each activity in the class and that made me feel confident in my conversations with parents.
The initial course also covered the practicalities of running a business including bookkeeping, insurance requirements and marketing advice (including social media). It was very comprehensive.
Since then, Head Office have always been available to chat through questions and ideas and have given invaluable advice. Follow up and refresher training is also available.
What Challenges have you faced so far?
I was finding it difficult to find suitable venues in my area and Head Office gave me some fresh ideas for finding rooms to hire. It opened up a new avenue for me which was really helpful.
What might a typical working day/week involve?
Every morning I do the school run and then four mornings a week I run classes so I leave straight after the school run. I also run classes on Sundays which is very popular with dads).
In the afternoons, I catch up on any new enquiries or bookings which have come in since the last day as well as spending this time on my marketing plan. I finish work in time to pick my children up from school. At the start of a new term, administration can get busy so I sometimes sit in front of the TV after the children have gone to bed tracking payments that have come into my account. As I am usually online in the evenings I also answer questions from prospects and deal with bookings then as well.
When it's quiet in the afternoons I get the opportunity to do some housework!
What is your greatest achievement to date?
I am now just coming to the end of my first 3 years and I am so happy that I still have some of my original members in Sparklers. I also have some younger siblings of previous members who are now at school. I know this means that I'm doing a good job.
If you would like to start your own Talking Tots franchise then find out more by clicking below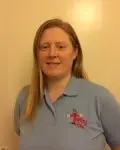 Zoe Hayes Runs Her Talking Tots Franchise In Edinburgh
When you choose a Talking Tots franchise you will receive support and advice from head office and other franchisees to keep you on track.
What

Our Franchisees Say

The great thing about Talking Tots is that the majority of the work is flexible so I can fit it around spending time with my children....which was the prime reason for taking this step in the first place!Claire, Talking Tots Southend
Why

Choose Us

Talking Tots helps you to achieve that work life balance, be your own boss and have fun every day!
Related

Franchise Categories
Related

Franchise Types