Age is no barrier to Razzamataz franchise business growth
Proving that age is really just a number, Pam Dixon, grandmother of five is showing no signs of slowing down. Pam has been a franchise business owner since 2008 and has a real passion and drive to continue to grow her business.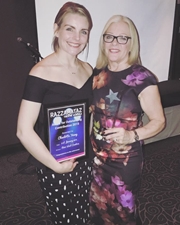 Pam is the franchisee of Razzamataz Dumfries, a part-time theatre school that is part of a successful network of theatre schools, all promoting the positive effects of performing arts.
Although Pam does not have a performing arts background, she watched her daughter Charlotte Young perform as a professional dancer and singer and set up her own Razzamataz franchise.
Pam says:
"Initially I really just helped Charlotte with her business and absolutely loved it. I mentioned to the MD and Founder Denise Hutton-Gosney that I would really love my own theatre school and she said, why not, go for it. I was initially skeptical that this was something that I could do but both Denise and Charlotte encouraged me and with their support I took over Razzamataz Dumfries from Charlotte and have never looked back."
Today, Pam has surpassed all expectations and has a busy, thriving school with more than 100 students, a very impressive number for a mid-week school. The school is very much a family affair with Pam and Charlotte helping each other in both schools and Pam's husband Ken is a real support and regular helps out at shows and even dressing up as the school's mascot Razz Ted!
Pam continues:
"I am very proud of myself with what I've achieved and I am still loving every minute of it. I recently moved venue to the gorgeous Theatre Royal in Dumfries, Scotland's oldest working theatre, which has given the business a new lease of life and has reinvigorated my commitment to growing the school. If you asked me a few years ago if I could reach 100 students, I probably would have said no but now the sky is the limit."
Before Razzamataz, Pam was a hairdresser for years and ended her hairdressing life by being a receptionist in a busy hair salon:
"It was 10 years ago that I left and for anyone thinking that it is too late to change their careers I would say step out of your comfort zone and just do it. I never thought I would be able to and it's the best thing I have done and wished I'd done it years ago!"
As well as running Razzamataz Dumfries, Pam is still a very active granny and looks after her grandchildren a couple of times a week:
"My eldest two grandchildren call me Mama Pam, and the youngest three call me granny. I love being able to help my children and spend time with my grandchildren. Being a Razzamataz Principal allows me to do a job I love but it also really suits my lifestyle."
In terms of the future, Pam has firmly got her sights set on further growth and most importantly to continue to offer amazing opportunities for her students.
Pam explains:
"We are just finishing our rehearsals for our gala show in Her Majesty's Theatre in London and next year we will be taking a group of students to perform in Disneyland Paris. Whilst I am fit and well I will carry on being the Principal of Razzamataz Dumfries because I enjoy it so very much. Many of my students are now training to be professional performers and it is a real joy to watch their progress and see where the Razzamataz journey takes them. Ultimately, to be able to offer the youngsters of Dumfries a place where they can learn theatre skills, make new friends and keep fit and healthy is a real privilege."
Razzamataz Theatre Schools is a franchise part-time theatre school business with schools up and down the UK. MD and Founder, Denise Hutton-Gosney appeared on BBC's Dragons' Den in 2007 and after a tough grilling from the Dragons, gained investment from Duncan Bannatyne.
If you would like to find out how you can join the franchise network, Razzamataz is actively looking to open further schools across the UK and in particular Aberdeen and Cardiff. The team will be holding regular Discovery Den days, which give people the opportunity to meet the Head Office team and find out more about this franchise opportunity.
If you want to find out more about becoming a franchisee of your own part-time Razzamataz Theatre School click below
What

Our Franchisees Say

The support and training we get means that we can get help on any aspect of our business. It has also been a fantastic and rewarding way of working, allowing me to continue to be there for the family while running my own business.Lisa Roberts, Razzamataz Rickmansworth

The support from Head Office is fantastic and they are always there to listen and to guide you through. You are getting advertising/marketing ideas, contacts and systems provided for you that you may not have if you were to open an independent school.Amy Latchman, Razzamataz Rickmansworth.

I don't have a business background so after deciding to retire from professionally performing it was the memories of Razzamataz on Dragons' Den that set the wheels in motion. I was really inspired by the brand and the business model and because it is a franchise business we receive a lot of help and support from Head Office as well as on-going training so I can make Razzamataz Barnet the success that I believe it can be. In the last 12 months, I have doubled my student numbers in a very competitive market and I have now clear plans on how I would like my business to progress this year.Michael French, Razzamataz Barnet
Why

Choose Us

TWO franchises for the price of ONE!

Affordable part time performing arts lessons

One of Dragons Den most successful investments!
Related

Franchise Categories
Related

Franchise Types