College leavers take control with their own business venture
Leaving college or university is a pretty daunting time for most students but for those who have been studying performing arts, the prospect of entering this profession can be even more overwhelming.
The performing arts industry has a reputation of being very tough and with such fierce competition for each and every job, this is a very accurate description. However, college leavers can take their future into their own hands and invest in a proven successful business venture, whatever their age.
At just 23, both Alison Beveridge and Caroline Larcombe have utilized their performing arts degrees by investing in Razzamataz Theatre Schools, a franchise business which gives franchisees the opportunity to run their own part-time performing arts schools even if they have very limited business knowledge. This makes it ideal for young performers who want to balance a financially rewarding career with their love and experience of dance, drama and singing.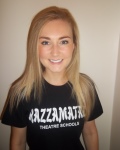 Alison performed all through school before going on to obtain a First Class Honors degree in Performance for Live and Recorded Media at Teesside University as well as a Masters in Acting at The Academy for Live and Recorded Arts in London. Alison performed lead roles in Musicals, Pantomimes, Short Films and Corporate work and is combining performing with her new role as the Principal of Razzamataz Durham.
"I always wanted to run my own business and was attracted by the prospect of running a theatre school," explains Alison. "I specifically wanted to go for a franchise, and in particular Razzamataz because of the support from Head Office and other Principals. I'm very determined to bring in my background as a performer to my business and instill a sense of passion together with a strong work ethic, determination and tenacity that is required to be a performer into my teachers and students. As a young business owner, probably the toughest challenge I'm going to face is not being taken seriously. I may be young and not have a great deal of experience but I'm fresh out of professional training and hungry for Razzamataz Durham to flourish and ignite the hearts and minds of the children and young people," she explains.
"For other young performers, I would say you must be passionate about it, if not, you won't enjoy all the hard work and long hours you must put in for your school to succeed. Being a business owner is just like being a performer – it's all about networking, meeting new people and collaborating together to produce something new and innovative."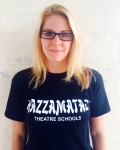 Like many performing arts graduates, Caroline Larcombe, who achieved a 2.1 BA Hons in Drama at the University of Lincoln was working in the retail and catering sectors after finishing her studies. Caroline has recently become the Principal of Razzamataz Manchester South, after deciding to invest in herself and the company.
"I decided to run my own theatre school as I was searching for a rewarding opportunity that would allow me to fully utilize the skills I had learnt throughout my education and personal experiences," Caroline explains.
"I loved the idea of working for myself as I am a very self-sufficient person, and made it my goal to make this happen. Since my training and experience lies in performing rather than the business side of things, I knew I would struggle to start a school from scratch myself, and appreciated the idea of being part of an already successful company."
"The biggest challenge for me has been the business side of things, understanding accounts, business banking, bookkeeping and also certain aspects of marketing; understanding and arranging mailshots, e-shots, trying to get PR's in newspapers etc. I definitely feel like there is a lot of support from Head Office and the other franchisees have always offered advice and recommendations based on their own experiences, and this has been invaluable," she adds.
For a limited time only, Razzamataz is reducing its franchise fee to £7,999 from £9,995, plus Razzamataz will waive the management fee for the first term. This is a total saving of around £5,000 and significantly more affordable than many businesses in the franchise performing arts sector. When you consider actual schools can produce a yearly net disposable cash figure of £73,888 this is a fantastic return on investment.
Could this be you? If you are a performer or performing arts graduate and want to find out more about running your own business just click below to request your FREE franchise information pack
What

Our Franchisees Say

Buying into a franchise is an excellent way to begin running your own business. You have all the benefits of working for yourself but the added support and proven success of a well established and recognised brand. For a person new to business, it is ideal.Helen Green, Razzamataz Sheffield

The support and training we get means that we can get help on any aspect of our business. It has also been a fantastic and rewarding way of working, allowing me to continue to be there for the family while running my own business.Lisa Roberts, Razzamataz Rickmansworth

The support from Head Office is fantastic and they are always there to listen and to guide you through. You are getting advertising/marketing ideas, contacts and systems provided for you that you may not have if you were to open an independent school.Amy Latchman, Razzamataz Rickmansworth.
Why

Choose Us

Affordable part time performing arts lessons

TWO franchises for the price of ONE!

One of Dragons Den most successful investments!
Related

Franchise Categories
Related

Franchise Types