Just what the doctor ordered
Tutor Doctor helps all ages in all subjects in the comfort of home.
Rade Gratton's Tutor Doctor franchise, is for more than just help with reading, writing and maths. The home-based business, which will be run from her own home, can cater to all students young and old in a variety of subjects.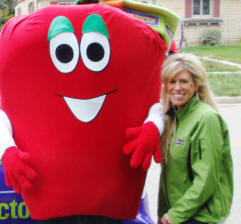 "We tutor adults; we don't just tutor children. We have elderly people who want to learn Skype to communicate with their children and grandchildren. We've had someone who was interested in Photoshop and someone who wants to have their family learn to speak Italian before a trip to Italy," she said. "And if someone comes to me and asks if I have 'this' and I don't, I'll say no, but give me a week."
Rade bought a Tutor Doctor franchise after her daughter, now at secondary school, was struggling in primary school.
"She was halfway through her first year at primary school and I was told she couldn't read," Rade said, explaining that the news was shocking to her. To remedy the problem, she spent five years taking her daughter to several different tutors, spending hours driving to different areas after a full day at school.
"She would cry because she was so tired, and I remember wishing someone would come to my house," As luck would have it, Rade discovered the Tutor Doctor franchise and felt it would be perfect for parents in situations such as hers – the tutors come to your house at a time suitable for you.
"My daughter was in an environment she was comfortable in. To me, it's nice to be able to cook dinner and oversee the tutoring, even being able to be part of it,"
Rade said when Tutor Doctor works with children, their goal is to work as closely with the school's curriculum as possible. "We will work hand-in-hand with the teachers to match what's going on in the classroom. We are trying to keep the children where they should be in the classroom and fill in the gaps,"
Rade feels Tutor Doctor is a good resource for today's economy. She said there might be women who have decided to re-enter the workforce because of a need for more income. "If they want to go back to work and maybe just do temp jobs and don't know Excel, we can help them with that" she explains. Beyond that, Tutor Doctor even provides extended tutoring for parents who want to home-school their children but have to work themselves. "If both parents want to go back to work, they can still home-school,"
As our world continues to evolve in how we do things, tutoring should be no exception. "Look at our lifestyles with ever changing computers and mobile phones. I think tutoring should change as well".
Find out more about starting your own Tutor Doctor Franchise just click below