Snobby Dogs Franchise
Features
Events
Videos
Resales
Snobby Dogs Franchise
Pet Grooming Franchise
.

Join the leaders of Dog Grooming and Pet Care sweeping the UK.
Snobby Dogs Grooming Parlour Ltd first opened its doors in September 2009 as 'The Grooming Parlour with a difference' and with a tremendous amount of support from the local press, community and even some celebrity pooches!
About Snobby Dogs Grooming Parlour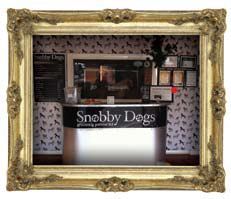 Snobby Dogs Grooming Parlour Ltd offers luxury state of the art Grooming Salons where we groom on full view and which bear resemblance to high class human salons. Not only do Snobby Dogs offer the highest standards of Grooming but extra pampering treats such as facials, hair colouring and pamper days.
Snobby Dogs also operate vans and trailers which are converted into luxury mobile grooming salons offering all of the in-salon services but with the added convenience of your clients not having to come to you.
Snobby Dogs Franchise pride themselves on excellent standards of customer care both Canine and Human and are pleased to be offering a complete service including Dog Grooming, Collection and Delivery Service, Microchipping, Day Care and Cat Grooming. Franchisees are not required to offer all services should they choose not to.
Be Part of Snobby Dogs Franchise Success
Snobby Dogs success and theory of high standards, care and a safe environment has seen their business go from strength to strength - from first opening their doors with only their dogs as customers to three years later having a repeat client base in excess of 2000 and turnover having tripled.
Snobby Dogs success was further demonstrated in the 2010 Pet Care Trust Pet Industry Awards where the company was shortlisted to one of three groomnig businesses in the UK up for the award of Grooming Business Of The Year.
So if you're looking for a pet grooming franchise opportunity with some real strengths search no more!
Any experience needed as a Snobby Dog Franchisee ?
There is just no escaping the fact that running your own business can be hard work. However, you are doing it for yourself and the rewards of a Snobby Dogs franchise will be there for you to see from day one. If you possess the following attributes then a Snobby Dogs pet grooming franchise could be just what you have been looking for:
A willingness to work hard, because there is simply no substitute for hard work
A willingness to persevere, because there will always be times when things don't go according to plan.
The desire to work with others who all share your commitment to the highest standards.
The support as a Snobby Dogs Grooming Franchisee
Snobby Dogs franchise ensure that you are well equipped to start and grow your business. Training, ongoing business support and a wide range of resources are available when you become The Snobby Dogs Grooming Parlour Ltd Franchisee in your area.
The Earning Potential
What you can earn out of a Snobby Dogs pet grooming franchise is, in the final analysis, up to you: how hard you work, and how gifted you are. It's no different to anything else. But you'll be surprised at how the numbers can stack up.
The Snobby Dogs Franchise is currently available for £19,500 Franchise Fee, approx £11,000 for shop fitting & equipment for Salon. £24,500 if mobile including Franchise Fee & converted trailer.
To find out more about Snobby Dogs Pet Grooming Franchise simply click the button below