TaxAssist Accountants Franchise
TaxAssist Accountants Business
Bookkeeping Franchise

TaxAssist Accountants Business - THE Bookkeeping Franchise
The proven business model of the TaxAssist Accountants Business is straightforward – take on hundreds of small business clients with relatively uncomplicated work whilst being based in visible, accessible and friendly shop front premises.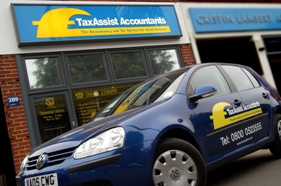 You do not need to be an accountant as the role of the TaxAssist Accountants Business owner is business development whilst employing accountants to complete the accounts production.
By adhering to the Bookkeeping Franchise business model and taking a proactive approach to marketing in your territory, you can be attracting clients at a considerable rate. Client acquisition will be facilitated by the TaxAssist Accountants Business's unique and innovative approach to marketing which will significantly help the build-up of your fee bank. Alongside this the TaxAssist Accountants Business deliver nationally acquired leads which clearly separate them from other accountancy franchises.
Founded in 1995, the TaxAssist Accountants Business network of over 185 practices services over 43,000 clients with a combined fee bank in excess of £28 million putting them 26th in the Accountancy Age top 50 league of UK Accountants, the only Bookkeeping Franchise to be recognised in the league tables.
TaxAssist Accountants Business: Training and Support
The TaxAssist Accountants Business's initial training is designed and delivered by an in-house team of qualified accountants, tax experts and marketing trainers in conjunction with specialist training partners. The courses are residential and TaxAssist Accountants pays for all meals and accommodation.
The Bookkeeping Franchise Training Programme runs for 6 weeks and consists of:
Two day foundation training (qualified accountants may get an exemption from this)
Three weeks covering accounts production and taxation for sole traders and software training
Week 4 you will be working from home. You will be given relevant case studies to work through
Week five covers practice management and social media training
In the last week you will receive sales, marketing and recruitment training
Further training is provided during the first six months of your Bookkeeping Franchise as part of their nurture programme. These follow up courses focus on business development, HR and client acquisition. They are designed to help you learn more about your individual TaxAssist Accountants Business practice and for the TaxAssist Accountants Business team to steer you in the right direction in the early days of starting your Bookkeeping Franchise business.
TaxAssist Accountants Business: Franchise Package
When joining the TaxAssist Accountants Business you will receive:
An exclusive marketing territory
Fully integrated accounts and tax software suite
Complete ongoing training programme and Comprehensive operations manuals
Technical support including access to our technical helpdesk, support website and visits from our technical experts
Regular contact with TaxAssist Accountants' Franchisee Development Manager
Lead generation services including 25 free leads
National marketing campaigns and internet optimisation
Marketing, publicity and brand building, Local PR Support from external PR agency
Initial stationery and marketing materials including your own personalised website
Regular regional training and development for you and your staff
A support site with adverts, guidance, stationery etc
First year's membership of a networking group such as BNI or 4Networking
Telephone answering service for first year
A Support Centre dedicated to franchisee support and development.
TaxAssist Accountants Business: The Award Winning Bookkeeping Franchise
Recent accolades include:
2012 Best Franchise Awards – Best larger Franchise
2012 Best Franchise Awards – Best Training and Support
2012 Accountancy Age League Tables – 26th Largest Network of Accountants
2011 Best Franchise Awards – Best Training and Support
2011 Accountancy Age League Tables – 29th Largest Network of Accountants
2010 bfa / HSBC Franchisors of the Year Awards – Gold winner
2010 Accountancy Age League Tables – 34th Largest Network of Accountants
As the owner of a TaxAssist Accountants Business you will enjoy the profits whilst building an asset for you to sell when you are ready to exit and with the TaxAssist Accountants brand name this is proving to add a premium to the value of your Bookkeeping Franchise business when you decide to sell.
Discover the TaxAssist Accountants Business
The TaxAssist Accountants Business network have territories available across the United Kingdom and Republic of Ireland so if you would like to attend a Discovery Day so you can get a full understanding of the TaxAssist Accountants company and Bookkeeping Franchise opportunity with no obligation, then please enquire today to learn more, by clicking the button below.
Once you have attended a Discovery Day TaxAssist Accountants will provide you with a full list of their TaxAssist Accountants Business owners for you to speak with. TaxAssist Accountants ensure this is an essential part of the research process you must undertake.
Request a FREE Full Information Pack about the TaxAssist Accountants Business, the leading Bookkeeping Franchise today...click the button below, now...