Tatty Bumpkin Franchise
Tatty Bumpkin Franchise
Childrens Yoga Franchise
Yoga-inspired Fun Classes for Babies and Children


Flexible Ethical Lucrative Fun
Yoga inspired fun classes to encourage movement and enhance development for children 0-7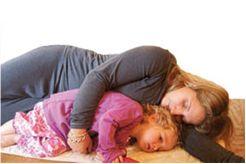 A Tatty Bumpkin franchise gives you the freedom to work to your own schedule while being part of an award winning ethical business. The unique dual-income Tatty Bumpkin childrens franchise generates income through a fun yoga-inspired children's activity class as well as through sales of Tatty Bumpkin's fairly traded class associated materials and their range of carbon neutral organic clothing.
Why invest in a Tatty Bumpkin Franchise?
Dynamic, forward-thinking ethical company

Classes aligned with the Early Years Foundation Stage (early years standards for babies and children aged 0-5 years)

Programme developed by educationalists, health professionals and qualified yoga teachers

Intensive business and teacher training, along with comprehensive ongoing support from a knowledgeable, proactive team

Baby and Tatty Bumpkin gives a broad business reach

Tatty Bumpkin franchisees teach Baby and toddler classes in nurseries, children's centres, primary schools, after school clubs, at parties and privately, as well as selling merchandise through their classes. Tatty Bumpkin franchisees find classes rewarding, as the programme encourages children to develop in their own way through having fun.
"Tatty Bumpkin has changed mine and my whole family's life for the better. There's so much to be done but I really enjoy my job - no I love it! It makes me so happy to be a part of such a wonderful thing." - Tatty Bumpkin franchisee.
Tatty Bumpkin - An award winning ethical franchise
Tatty Bumpkin was set up in 2004 to help parents and children everywhere to enjoy a more fun and creative childhood. Run from an organic cobnut farm in Kent, the company strives to be as organic, sustainable and ethical as possible and have a positive impact on everything it does.
Childrens Yoga Franchise :Fun activity classes
Based on yoga and developed by music educationalists, pediatric physiotherapists and experienced yoga teachers, Tatty Bumpkin's yoga-inspired activity classes are loved for their innovative approach to childhood development and parents are often surprised to rediscover their inner child!
Designed to be flexible and make the transition a bit easier for mum's returning to work, Tatty Bumpkin was awarded an UnLtd Social Enterprise award for its socially responsible business model. The Tatty Bumpkin childrens yoga franchise works to give women the opportunity to have a rewarding, lucrative and family friendly career.
Tatty Bumpkin Franchise: Testimonials

Wendy Eynon – Essex South East

"I was very excited to find that the Franchise in my area was available, Tatty Bumpkin brings specially written music, yoga inspired movement and magical story-telling together and makes it fun for the children (and parents/carers!) whilst developing key senses. The quality of the product and the support received from Head Office is amazing, and I can't wait to introduce Tatty to the area"
"I am especially excited to be working for myself, which gives me the flexibility to fit in around my family and have a more reasonable work life balance. Having extracted myself from the corporate world, and inspired by my twins and the new world that motherhood had introduced me to, I can't wait to have the opportunity to work with children - they are our next generation so having some part in their development and making it fun at the same time is very exciting"
Tara McGregor – Edinburgh West

"I can't believe no-one is running Tatty Bumpkin in Scotland yet. The sessions are well thought out and have real depth. It works so well with key aspects of the Curriculum for Excellence. The children, nursery staff, parents and I have all really enjoyed the sessions I have run so far and I feel so lucky that I get to do this as my job from now on!"
Julie Bowers – Nottingham East

'I am really excited about helping create bendy giggly clever and strong children in Nottingham. The opportunity to meet other franchisees has been brilliant! The support, encouragement, exchange of ideas and inspiration means I just can't wait to get going.'
Andrea Warner – Cheltenham

"The professionalism, support & care that has been provided by the Tatty Bumpkin Management team, has made the decision to leave the corporate world & move into franchising easy! It is a pleasure to be part of Tatty's world & to be a member of a fantastic, enthusiastic & motivated team - that are truly making the difference in children's lives & I'm part of it! Even in these early stages it is exciting, challenging & rewarding! Thank you Tatty Bumpkin for providing such an opportunity!"
Emma Creed – Brighton

"We were so excited to be accepted by Tatty Bumpkin, a company that really believes in doing things ethically. We've felt very welcomed and at ease with Tatty Bumpkin and have had a lot of support. Overall we couldn't have been happier with the choice of franchiser we made"
Louise Steele – South East Oxfordshire

"I am passionate about Yoga, love kids and have always dreamed of running my own business so when I discovered Tatty Bumpkin I couldn't quite believe how perfect it looked for me! I quickly attended a Discovery Day and fell in love with the product and ethos of the company. Every step of this journey so far has left me keen to get started and thoroughly inspired. The dedication, enthusiasm and support of Head Office and the other franchisees is fantastic and has really made the transition into franchising easy".
"Most importantly for me, the research behind the classes to align them with the EYFS, the bespoke music and adaptable poses really gives Tatty Bumpkin the edge over any other activity based classes for children. I cannot wait to bring the bendy, giggly world of Tatty Bumpkin to S.E. Oxfordshire."
Is a Tatty Bumpkin Childrens Yoga Franchise for you?
Tatty Bumpkin franchise are looking for people with drive and ambition to develop their own profitable Tatty Bumpkin franchise business within their local area. The characteristics of successful Tatty Bumpkin franchisees include:
Enjoy challenges, are sociable and want to enjoy their career.

Self-motivated, well organized and can manage their time effectively.

Hard working and ambitious but with the desire to create a better work/life balance.

A minimum of 20-30 hours a week is required.

Self-motivated, well organized and can manage their time effectively.

To find out more about Tatty Bumpkin, Childrens Yoga Franchise simply click below to request a Full FREE Information Pack