KIOMA Franchise
KIOMA Make up & Perfume Business
Beauty Cosmetics Franchise

Do you have a passion for helping others look
and feel their best?
The KIOMA Make up & Perfume Business is an international Beauty Cosmetics Franchise that is now launching in the UK. Established in 2009 with the first shops opening in Portugal the franchise model was introduced in 2014. After experiencing solid grown with over 16 shops operating successfuully KIOMA has now opened in Spain with new openings underway in several other countries.
The Business Opportunity: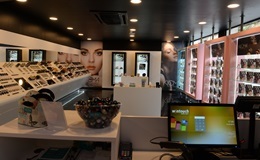 The beauty industry is worth £17 billion to the UK economy, growing solidly year on year up from £13.8 billion in 2009. As a franchisee you will be running your own shop-based KIOMA Make up & Perfume Business.
KIOMA understand the wide spectrum of contemporary woman profiles and their needs. It is with this in mind that KIOMA has launched a cosmetics collection at budget prices and a perfume range of generic version fragrances inspired by original designer brands at 80% lower prices.
The KIOMA cosmetics are manufactured to rigorous quality specifications and are regulated by European Standards.
The product range is produced as part of their partnership with one of the most experienced and long-standing make up manufacturers on the old continent, based in Italy.
KIOMA therefore presents an opportunity to create synergies in the franchise expansion model. Their innovative concept comes forward as both affordable and stylishly chic with growing appeal to international and diverse audiences.
The benefits of joining KIOMA:
No prior experience required
Excellent value-for-money - budget products
Recession proof market
High profitability and quick return on investment
Easy to manage
Innovative concept
Ideal both for investors and private individuals looking to own their own Beauty Cosmetics Franchise
Products associated with beauty
The Investment:
The KIOMA Franchise Fee is £29,950. This includes all necessary fit-out, initial stock, equipment and training required to start trading. (Construction/structural work related activities on the retail premises, if necessary, are not included).
Is the KIOMA Make up & Perfume Business for you?
Do you have the attributes of an ideal franchise partner?
Are you interested in the beauty/fashion industry? No experience is required
Do you have a passion for helping others look and feel their best and strong customer service attitude
Are you extrovert and enjoy working with people?
Are you a working professional who is seeking a better work-life balance?
Are you a stay-at-home mum or are you looking for a career outside of the home
If you answer is YES to the above then KIOMA want to hear from you!
Find out more about becoming a KIOMA Make up & Perfume Business Owner and opening your Beauty Cosmetics Franchise. Click the button below now!