The Scallymag Franchise
News
Features
Events
Videos
Resales
The Scallymag Business Opportunity
Local Parenting Magazine Franchise

Are you a mum frustrated trying to find out local information?
Do you know where all your local toddler groups are and when they run?
What about swimming or dancing lessons?
Would you like all this information delivered directly to you, regularly and free of charge?
Why don't YOU be the one to provide this vital service to families in your area while earning money at the same time? A part time, profitable, flexible franchise opportunity is just waiting for you!
About The Scallymag Business: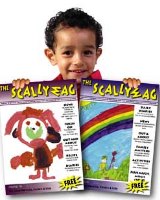 The Scallymag brand is owned by Catalyze Enterprises Ltd and, through careful design and development, has firmly established itself as a well-respected, trusted, successful, local parenting magazine, all run by mums working from home.
The first Scallymag was created in 2003 and is still going strong. The magazine is
Good quality
Full colour
Clear
Informative
With its focused and guaranteed distribution network the The Scallymag Business has become the chosen advertising platform for family-orientated businesses and public service providers.
The benefits:
The business model is unique
This will be your own business and Scallymag will endeavour to encourage and support you
You are free to put your own mark on your edition of the magazine
Training and Support
As a Local Parenting Magazine Franchise owner you are self-employed but never alone.
You will receive:
As much one-to-one mentoring time as you require with an experienced Scallymag franchisee, via Skype or face-to-face. Scallymag have experts in sales, design and writing.
Marketing tools including 1000 personalised leaflets to help you sell the magazine concept in your area.
Comprehensive expertly written manuals full of clear instructions, tips and ideas to guide you through every aspect of setting up your business and solving most problems you may encounter. All tried, tested and proven to work.
Access to a private, franchisee-only, internet area where questions can be asked, answered and general support given from other members of the team.
Access to a selection of features and other magazine content so you will never be stuck for magazine content.
Access to a team of designers, in place and ready to work with you to get your magazine to press if you are not confident about taking on that side of the business on your own.
Scallymag have print partners, all tried and tested for quality and service by existing franchisees.
Video tutorials covering many aspects of creating your magazine.
All your personal branded stationery.
Business paperwork and templates.
The invaluable back-up and support of the rest of The Scallymag Business team.
Is The Scallymag Business For You?

Every parent should have access to a Scallymag! Could you be the one to create yours for your town?
The ideal franchise owner is a mum who has recently stopped work to raise a family. She cares about her community and has a personal need for a stimulating, rewarding, flexible part-time, yet profitable career.
You do not have to be a writer, sales expert, designer or have previous business management experience, but you will have to be bright, literate, organized, enthusiastic and be driven to succeed.
The Investment:
To buy your first area, the total cost is £2,000. That is split into £475 initial training fee and set-up costs, followed by the franchise area fee of £1,525, payable when you are ready to sign the agreement and begin work.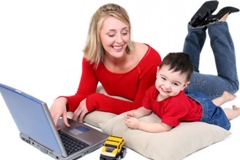 After that there is an ongoing fee of 5% of turnover, payable each issue you produce. Scallymag recommend a working capital of about £1,500 to get your first issue to press.
This franchise begins as a five year opportunity and, as the magazine becomes established and advertising sales gains momentum, the opportunity to increase revenue is unlimited.
A Scallymag editor typically produces four magazines per year, after year two Scallymag would expect a profit to be earned of £12,000 – 15,000, after year four around £20,000. Further income can be generated by selling your skills to other franchisees (by selling your features or your design skill), or even taking on another area to create another magazine.
Join The Scallymag Business that DOES make a difference!
Find out more about the starting your own Local Parenting Magazine Franchise. Click the button below now!