Hartbeeps Franchise
News
Case Studies
Features
Events
Videos
Resales
Hartbeeps Franchise
Baby and Toddler Music Franchise
Childrens Franchise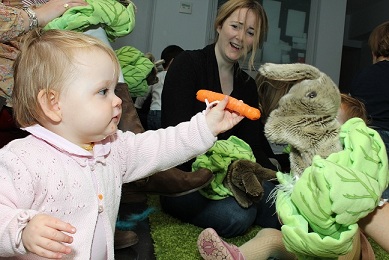 Founded by Early Years Practitioner and musician; Sarah Godwin, Hartbeeps offers contemporary music based developmental classes for babies, young children and are BIG fun and informative for grown-ups too.
Hartbeeps franchise compose and produce all their own music and songs and franchisees can enjoy the benefits of offering a super range of the most original music, songs and soundplays for babies and young children today. NEW for 2012 Babylove album (and course) for expectant mums; the programme explores baby's musical world before birth; the album is currently being produced with mum of three and 90's pop star Kirsty Hawkshaw.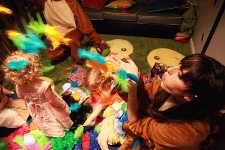 Hartbeeps has evolved over years of hands-on work and study into how babies and children enjoy exploring to learn and what adults want from music based classes. It has always been Hartbeeps aim to avoid the traditional music class environment where children are expected to sit in a circle and pay attention as props and instruments are handed out and then taken away.
Hartbeeps rather build a set during the class, led by the children and emoted by beautiful, funky, fun music, songs and soundscapes. The Hartbeeps brand represents an artistic production company for young children and offers quality and good value for money. With specialist baby programmes suitable from minus 3 months through to walking, toddler and pre-school programmes and the newly developing touring baby productions, along with Babylove courses for expectant mothers, you will truly have a robust business with depth and scope.
Hartbeeps tends to attract 'special' people, who are confident, fun loving with great people skills & experienced and/or knowledgeable in the area of working with babies, young children & their families.
A genuine love of children & the magic childhood brings also goes hand in hand with the amazing & rewarding work Hartbeeps do.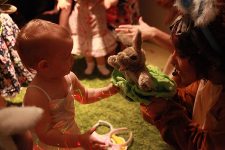 Following a two day induction programme (Wednesday/Thursday or Thursday/Friday at our head office in Watford, Herts – 20 minutes train ride from Euston Station), online training resources at the touch of a button, knowledge sharing and support forum with other Hartbeeps franchisee's, and email mentoring; ideal candidates should feel self-assured enough to perform, sing (techniques to support your voice are offered as part of the training and you do not have to a professional singer) and ready to take on a wonderful life changing challenge!!
A very competitive franchise fee of £1800 includes the purchase of a full license to operate a Hartbeeps business within an exclusive territory, along with a two-day induction course (enabling you to work in a live class setting), session backing tracks, session plans, business forms, templates and training videos; all easily downloadable from our own intranet; along with your own web pages on our .com website and PR, Marketing and specialist baby training support from our exceptional and experienced team.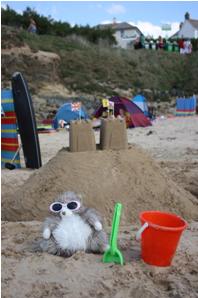 The prop kit required to run your Hartbeeps business can be acquired over a period of time as you grow your business and by following our database of suggested props, you are free to be creative about how you acquire the props (we feel that this is a much fairer and more cost effective way of accumulating props and we don't ask you to buy into branded props).
An on-going management fee of 10% of turnover is paid to Hartbeeps at the end of every academic term covering the costs of supporting your Hartbeeps business; along with updates of music, songs, session material and any new programmes that we may introduce to enhance your business proposition in the future. We do allow you to take any contractor wages from the turnover as you start to grow your business, as this will be your biggest outgoing, we again feel that this a very fair arrangement. We do not make a charge for the first term, to give you a chance to get up and running.
Other costs include:
£5m of public liability Insurance (approx. £140 PA, which can be paid in monthly instalments)
Hall Hire (will vary from £7 to £15 per hour depending on the area and the venue, but you can charge according to your costs)
CRB checks £50 to £70 for three years and Hartbeeps can help you organise this.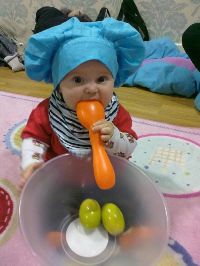 Saturday inspiration and teacher training workshops for you and your team are available at an additional charge of approximately £30 per head and a full day spent: drilling down sessions and understanding why and how we deliver the programmes, pregnancy and birth physiology, baby yoga, baby signing, baby soundplay (our own specialist methodology), counselling new mums, puppetry skills, acting and singing to name a few.
Webinars will also be available from 2012; offering live internet forums in subjects such as working with social networking sites, working with schools and educational organisations, managing and running you own admin from home, again to name a few.
Hartbeeps takes a fresh approach to running a creative franchise for children and we hope makes you feel part of a special family, you are of the upmost importance to us and you will never feel alone, even though you are operating your very own business.
The head office think tank is a tank of thinkers and doers; we always strive to communicate with our franchisees and their most important customers to keep our business and products fresh and exciting.
Hartbeeps is growing rapidly so now is definitely the time to jump on board and enjoy your very own sound journey with us. See you soon at Hartbeeps…
To find out more information about Hartbeeps franchise simply complete the form below