MagiKats Maths and English Tutoring Franchise
MagiKats Business
Childrens Education Franchise


Home-based flexible working whilst making a real difference
The MagiKats Business is a Childrens Education Franchise with a tutoring twist. This is an ideal opportunity for those looking for a management franchise opportunity or looking for an education franchise as teaching can be hands-on or hands-off as desired.
The MagiKats Business Opportunity:
MagiKats is a family business, their priority is getting the right people, not just as many people as possible. So, whether you are a teacher looking for a change, or working in a completely different industry but looking to get involved in children's education, the MagiKats Business opportunity could be for you.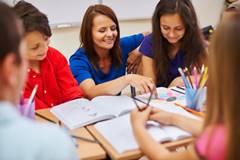 MagiKats workshops offer maths and English tutoring in small groups to children from pre-school to GCSE (or local equivalent qualification).
Each student studies a two-strand programme of curriculum support and core skills development. In addition to subject skills, we help develop thinking skills, problem solving skills, study skills and social skills.
Every MagiKats student has a programme that is put together for them as an individual and no two programmes will ever be identical.
The MagiKats franchise opportunity is possibly the best education franchise that you may never have heard of.
Why choose the MagiKats Business?

Every franchisee is treated as an individual. MagiKats work with each person to help them develop and achieve their personal goals. Franchisees are not forced to all have the same targets, or to operate in exactly the same circumstances. They ensure that the MagiKats franchise works for them.
What does a MagiKats Business Owner do?
Franchisees use the MagiKats' unique computer system and programme to manage students' programmes, monitor their progress and feedback to parents.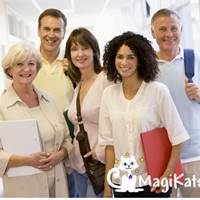 Franchisees employ mentors – a more inclusive title than tutors - to deliver the subject tuition to small groups of no more than six students at a time. A centre manager (usually but not always the franchisee) runs each workshop session and liaises with parents on their child's progress.
Never taught or employed staff before? The MagiKats programme and training provides you with all the tools you need to prepare the programmes for each child and our tutoring training programme shows your staff how to deliver an excellent MagiKats experience.
Back in the office, a MagiKats franchisee markets their business, deals with parents, prepares work for the students, takes sales calls, monitors customer payments – basically everything you would expect a small business owner to be responsible for.
If you have never run a business, don't worry – the comprehensive training and support package provides you with access to decades of experience and practical guidance on all aspects of running a small business.
The Franchise Package:

The MagiKats franchise costs £10,000. Your initial fee includes:
An exclusive territory
A full training programme
The MagiKats unique KATS software to help you run your business
A supported marketing launch
Pre-training business planning
Marketing materials
Initial and ongoing support and site visits
Ongoing professional development opportunities
Regular updates on developments in education
Market research assistance
Materials and know-how
A start-up kit of workshop and office inventory
| | |
| --- | --- |
| | Your monthly fee includes access to the following: |
Can you meet the MagiKats challenge? Let's do some maths!
Question: A MagiKats Principal has 60 individuals enrolled and turns over around £6,500 per month. These individuals attend workshops spread over four hours weekly and two staff members assist the Principal by providing tuition. How much does the Principal earn in a year?
Answer: This MagiKats Principal could earn around £52,000 profit per annum. But what about the 60 individuals – where do they come from? The UK tutoring market is worth £6.5 billion per year and in 2014, 2.8 million children received additional tuition. Here's a supplementary question for extra credit – can you work out the percentage of those children you need to attract to get your 60?
Now for an English question – one based on empathy.
Question: "Working with MagiKats has been more extraordinary than I could ever have anticipated. As an engineer, I would not have thought I could find so much pleasure working with children and teenagers – seeing them develop as individuals is just as rewarding as hearing about their exam results." Aidan Mills, MagiKats Centre Manager.
"Being a MagiKats franchisee has completely changed my life – for the better! I now have plenty of time for my family and friends, whereas before I used to be rushing from home to work. Life is 100% more enjoyable nowadays!" Stefanie Kosky, MagiKats Principal.
Imagine you are working in the same business as these people. Describe how you would feel as you woke up every morning.
Answer: The answer rather depends on your perspective. Do you want to work in your own business where you look forward to the coming day? Working as a MagiKats Principal is challenging but extraordinarily rewarding.
Interested?
In the 2016 Smith & Henderson Franchisee Satisfaction Survey, they scored 100% satisfaction amongst their franchisees for work/life balance. Over 90% said they would buy the franchise again. This is because MagiKats take the success of their franchisees very seriously – whatever their goals.
Does this opportunity interest you?
Find out more about the MagiKats Business, the rewarding Childrens Education Franchise. Click the button below now!