Oscar Pet Foods Franchise
Oscar Pet Foods Franchise For Sale in Norwich
4th November 2016
Norwich
Oscar Pet Foods Franchise For Sale – Norwich
A fantastic opportunity has become available within the Oscar Pet Foods network of franchisees, to purchase an existing franchise covering areas around Norwich.
The present owner is looking to retire and also re-locate to a different area, so is reluctantly having to sell their business. They spend approximately 15 hours a week running and operating the franchise. Therefore there is huge potential to vastly increase turnover, if developed on a full time basis.
The business has a solid core of repeat customers, with a fantastic opportunity to continue to grow existing customers with limitless opportunities to access new customers. The exclusive range of Oscar products are only available to franchisees and no other retail outlets. The customer base covers all ages and demographics.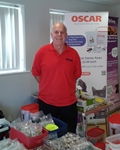 LOCATION & GEOGRAPHICAL AREA
Norwich - East towards Great Yarmouth and North towards Cromer.
The re-sale opportunity offers the following:
Full records for existing live, potential and lapsed customers
Electronic pet weighing scales
3m x 3m marquee ( 2 years old )
Comprehensive storage shelving
A frame, a pull up advert, leaflet racks, 3 6'x3' tables and assorted large containers for show stock
Professional handover
Training: 7 days comprehensive in house training with 9 days field training days
Micro - chipping training
Nutritional exam
PR launch
Equipment package including corporate clothing, business cards, promotional and marketing material
Vehicle livery
OSCAR MUCH MORE THAN A FRANCHISE
OSCAR is your own local business where you can provide a convenient and free direct-to-the door delivery service with their comprehensive range of quality pet foods and accessories. The opportunity to offer a personal complete pet care service with ongoing advice to pet owners is unique to the OSCAR brand and brings many rewards including repeat business and the greatest opportunity to meet the UK's 13 million pet owners – who just love their animals.
Today, OSCAR are all much more aware of how important a good diet affects our lifestyle and this has brought about a change in attitude towards pet care. By operating a 'Try Before you Buy' system, you and your qualification in pet nutrition will determine a suitable food for the age, breed and lifestyle of each pet. The additional support of a personal OSCAR helpline direct to experts in nutrition and behaviour, complete with veterinary advice, ensures customer confidence.
The OSCAR range of specially formulated pet foods meets the requirements of their Honest Label Policy – Made in Britain with no artificial flavours, colourings or preservatives. Pets will love the food because it's mouth watering and extremely tasty. Quality and nutritional content is OSCAR's priority and they are confident in offering a 28-day money back guarantee (conditions apply).
A family business, founded in 1990, and now market leaders in pet food home delivery, they have a wealth of experience in franchising and the pet industry. Previous experience is not necessary because their proven system will train and support you throughout your franchise term.
An OSCAR franchise provides the security of a strong brand and protected image that gives you the benefit of running your own business to suit your time and circumstances within your own exclusive territory. There is immediately the strength of a large organisation behind you; the OSCAR proven business system continues to bring support to its network of franchisees. With over 100 qualified OSCAR Nutritional Advisors around the UK they are the largest mobile pet food franchise.
As market leaders in pet food home delivery OSCAR has full membership of the British Franchise Association, Pet Food Manufacturers' Association and is a holder of the Investors in People Award.
Click the button below to enquire about this resale
Oscar Pet Foods Franchise Resales