Razzamataz Theatre Schools Franchise
Hot stuff as Hayley scoops top franchising award for Razzamataz Theatre Schools
17th April 2012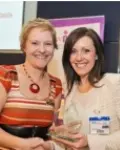 "When looking at the different franchise businesses I was instantly attracted to Razzamataz Theatre Schools as I love their ethos and vision." - Hayley Limpkin, Razzamataz
The curtain's up on a new Razzamataz star. Hayley Limpkin, who's owns the Maidstone and Medway branches of the UK's most exciting theatre school, has just been named the New Woman Franchisee of the Year in the prestigious Encouraging Woman into Franchising (EWIF) Annual Awards.
Hayley, from Chatham in Kent, took the top prize in the awards – sponsored by Natwest and Recognition Express - at a glittering ceremony on London attended by the cream of the industry including the queen of franchising, Rosemary Conley.
The Awards provide a unique opportunity to formally recognise the contribution women franchise owners, franchisors and franchise service providers make to this sector.
The young dancer, whose professional work has taken her around the world, only started her first franchise in May 2010 and has been drawing the crowds ever since. Her students have performed on the local radio station KMFM, they have one of Alexandra Burke's backing dancers as a dance teacher and they have been invited to perform at local events, and achieved recognition at the National Kent Dance Challenge. Students have raised a total of £799 for 4 different charities and Hayley's commitment to giving back to the local community is evident through her working to build strong partnerships with community centres, schools, local businesses as well as giving away up to 4 scholarships yearly to attend her schools.
Hayley's award is the latest success for Razzamataz, owned by former dancer Denise Hutton-Gosney and backed by Dragon's Den star and entrepreneur Duncan Bannatyne. The company now has 40 franchises in the UK providing high quality performing arts classes for four to 18-year-olds.
The theatre schools, which have been running since 2000, cover all the disciplines, including dance, singing and drama. They also operate summer stage schools, in conjunction with First Choice Holidays, at number of foreign resorts.
After the ceremony, Hayley said: "Setting up my own business and leaving a job that had great benefits was a big risk for me. I was still working full time when I set up my first franchise, but a year later I was able to leave this job and I haven't looked back.
"My professional work in the performing arts industry coupled with my experience and knowledge gained from working with a blue chip marketing company managing some great clients such as Paramount, Virgin Atlantic and Sky has given me the best start in running my own business."
"When looking at the different franchise businesses I was instantly attracted to Razzamataz Theatre Schools as I love their ethos and vision. The curriculum is current, trendy and there is a level of autonomy that is uncommon within the franchising industry."
She added: "I am absolutely delighted to win this award, it has been hard work getting my businesses and schools up and running but I have loved every minute of it. I have a great support network around me in Razzamataz head office, my great team, family and friends and also my fantastic students who make this the most rewarding job ever.
"But fun though the prospect of fame is, it is not the main driver for Razzamataz schools. What really inspires parents who bring their children to classes is seeing them grow in confidence, make friends and enhance their social skills."
Denise Hutton-Gosney said: "Hayley and her team of fabulous teachers bring a wealth of experience, training, inside industry knowledge and knowhow to the schools, and they share a real passion for teaching. They create a fresh, funky and modern feel for students who enjoy the performing arts."
Denise said that ideal franchisees are ambitious, enthusiastic, energetic and passionate about the business. In return, they receive one of the most comprehensively structured training programmes available, with constant support and guidance aimed at making the most of the business.
All Razzamataz's teachers hold a qualification in performing arts or have a professional background in the arts and all are CRB checked.
The investment required to take on a franchise is now £9000 plus VAT, with associated advertising costs. Finance options may be available to suitable candidates.
To find out more information about Razzamataz Theatre Schools franchise simply complete the form or click the button below

Razzamataz Theatre Schools Franchise News