Razzamataz Theatre Schools Franchise
Razzamataz Children Party With The Stars In Londonís West End
10th February 2012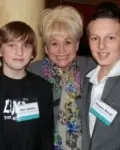 Children from Razzamataz Wokingham, Razzamataz Woodley, Razzamataz Street, Razzamataz Medway and Razzamataz Littlehampton recently attended a glittering party held at the Theatre Royal, Drury Lane to celebrate their success at winning a prestigious scholarship held in association with The Stage newspaper.
The talented children all attend classes at Razzamataz Theatre Schools, a part-time performing arts school, and were awarded the year-long scholarships after presenting a short film showing them performing either a musical theatre song and dance, commercial dance, pop song, drama improvisation or scripted drama piece.
"It wasn't just about raw talent, the applicants had to show a really strong dedication to the performing arts" says Shelley Fitzgibbon, Principal of Razzamataz Wokingham and Woodley. "We looked for those that demonstrated a maturity and a real desire to learn and we were delighted to offer Alex Jenkins age 12 and Lauren Skinner age 14 the scholarship."
"The Stage is a very respected newspaper for the performing arts industry and it will be an enormous benefit for all the winners to be able to put on their CV that they were a winner of a Razzamataz Scholarship in association with The Stage, adds Claire Walford, Principal of Razzamataz Yeovil and Street.
Among the other children invited to the party were Robson Broad, age 12 from Razzamataz Medway and Bebe Baxter, age 7 from Razzamataz Littlehampton, the youngest ever winner of the scholarship as well as Amy Davey, aged 10 from Razzamataz Street who says: "I had a great time at The Stage party. It was very grand."
All the students loved the experience as Alex Jenkins comments: "It was such an amazing day. I even got an agent's card!" All the Razzamataz students had a fantastic time, some even managing to chat to 'National Treasure' Barbara Windsor who was more than happy to talk to the youngsters and offer them advice on show business. Other stars from the West End attending the party included X Factor winner Shayne Ward and TV star Justin Lee Collins who are both appearing in the smash hit musical Rock of Ages in London's Shaftesbury Theatre.
"Winning the scholarship has given me an enormous boost of confidence," says Bebe. "By being invited to The Stage party, I have been offered some chances to do things I wanted to do."
"I was thrilled to win the scholarship," adds Robson. "Seeing my picture in The Stage newspaper, being interviewed, going to a proper photo shoot has been amazing. I have much more confidence and ambition because Razzamataz and The Stage have shown their belief in me. I am determined to continue to work hard so they see they made a good choice. I want to make my Principal Hayley and my parents proud of me, and one day I hope I will get the chance to go to The Stage party wearing a RED badge (cast member!) The biggest advice I got from the day is work hard and keep trying, because what at first seems impossible can become possible. Dreams can come true...so fingers crossed!"
Lauren Skinner adds: "By being invited to The Stage party, I feel that it is already opening up opportunities that would not otherwise be available to me and it has really given me an insight into the world of show business. My Principal Shelley has helped me so much by giving me this opportunity and it is her encouragement and enthusiasm that has spurred me on!"
Razzamataz is one of the fastest growing theatre schools in the UK, having shot to prominence when Founder and Managing Director Denise Hutton-Gosney appeared on BBC's Dragons' Den in 2007. There are more than 40 part-time Razzamataz Theatre Schools, all successfully following the franchise formulae that Denise Hutton-Gosney and Duncan Bannatyne have created.
"We are delighted to be working in association with The Stage newspaper, " says Hutton-Gosney. "It was a wonderful opportunity for the Razzamataz youngsters to attend such a party in the Theatre Royal and I really hope it inspires them to keep working hard and enjoying their performing arts training."
Razzamataz Theatre Schools offer exceptional training in dance, drama and singing together with exciting opportunities to perform. Classes are for children from age 4 to 18 and allow students to experience a range of performance styles from classic West End musical theatre to funky street dance. Razzamataz believes that every student should have the opportunity to be energetic, to gain confidence and to make friends whilst having lots of fun.
To find out more about Razzamataz Theatre School Franchise simply complete the form below

Razzamataz Theatre Schools Franchise News