Razzamataz Theatre Schools Franchise
Razzamataz celebrates the only fully qualified street dance teacher in the whole of Cumbria and Scotland
5th October 2011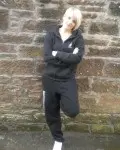 Street dance entered the mainstream in the late 1960s but it is really only in the last few years that it has become the obsession that it is today. From Britain's Got Talent's Diversity to CBBC's Alesha's Street Dance Stars, it seems youngster all over the country want to be part of a dance 'crew'.
As part of its curriculum, Razzamataz Theatre Schools offers alternate weeks of traditional West End musical theatre and commercial styles including street dance, pop and R&B moves. Now, Razzamataz can boast the only fully qualified street dance teacher to successfully gain a recognised qualification in the whole of Cumbria and Scotland.
Charlotte Young from Carlisle is the Principal at Razzamataz Penrith and Whitehaven and also teaches the dance classes at Razzamataz Dumfries and Durham. She recently passed her ADPA (Associate Diploma in Performing Arts) Urban Strides Level 4. This is a government recognised qualification and one of the only teacher training courses in the world covering authentic street dance styles.
The training with Urban Strides (the leading authentic street dance company which have been seen in 128 countries worldwide and the first Street Dance Crew in the world to open the Royal Variety Performance) consisted of comprehensive and in-depth Street Dance History, authentic foundation steps in the major street dance styles (ie Locking, Popping, Breakin, Hip Hop & House) and working with instructors who have worked directly with the original pioneers themselves which included Urban Strides Founder Andy Instone.
According to Urban Strides, 87% of street dance classes don't teach authentic street dance and the teachers don't have the knowledge and history to relay this information to the students. "Some teachers watch Youtube and assume they can teach street dance without the knowledge, technique and foundations that make it authentic street dance," says Charlotte. "Having just completed the course, I understand that there is so much more history and technique you have to understand before passing it onto your students. I'm delighted that Razz students in the North will be able to benefit from all that I've learnt and really get to grips with this fantastic dance genre."
In all aspects of the performing arts, Razzamataz makes sure that it reflects the current trends that are accessible to children and teenagers. The sessions, which consists of dance, drama and singing, not only give them the opportunity to improve their theatre skills but also make new friends and build their confidence. "The street dance classes are great for getting all the students involved, especially boys who sometimes feel a bit excluded from other dance styles," says Charlotte. "Razz street dance classes will equip the students with the tools necessary to create and develop their own choreography and have the confidence to freestyle in each genre. This is where street dance originated from so we are really giving students a true understanding of it."
Razzamataz Theatre Schools first came to prominence when Founder and Managing Director appeared on Dragons' Den in 2007 and multi-millionaire businessman Duncan Bannatyne invested in the schools. As one of the fastest growing theatre schools in the UK, Razzamataz is dedicated to working on making theatre arts training accessible to young people all over the country and is committed to helping students flourish through the wide range of performance opportunities they offer.
To find out more information about Razzamataz Theatre Schools franchise simply complete the form below

Razzamataz Theatre Schools Franchise News