Razzamataz Theatre Schools Franchise
Razzamataz Stage Academy launches in Haven
13th July 2011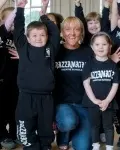 Razzamataz Theatre Schools has officially launched its summer school performing arts scheme at Haven's site in Craig Tara in Ayr, Scotland. For families holidaying at the centre, the Razzamataz Stage Academy is a fantastic opportunity for both the children and parents because while the kids are having fun, the parents can go and relax and enjoy some 'me time'.
The Razzamataz Stage Academy is one of the many activities on site for children, making for a happy holiday for both parents and their offspring. Children can enjoy six hours spread over two days of performing arts workshops ending with a short presentation on the main stage for friends and family to watch and enjoy.
This is the first year that Haven has had the Razzamataz Stage Academy, and if successful, there are plans in the pipeline to role the scheme out to the other sites giving children all over the UK a chance to join in the Razzamataz fun.
During the main summer period, children aged between 5-16 holidaying at Craig Tara will learn a broad range of skills from pop singing and street dance to musical theatre and drama. Classes are taught by experienced and dedicated teachers, many of whom enjoy a professional performing arts career themselves.
Founder and Director Denise Hutton-Gosney says: "Working with Haven is a wonderful opportunity for us to spread the word about the work we do at Razzamataz and it is incredibly satisfying to see how much the children benefit from the workshops they participate in while on holiday. In just a few days they can take away many new skills and experiences that otherwise they may not have had the opportunity to enjoy."
Razzamataz first came to prominence when Hutton-Gosney appeared on BBC's Dragons' Den in 2007. After a well-delivered pitch, multi-millionaire Duncan Bannatyne offered the full investment to make Razzamataz one of the fastest growing part-time theatre schools in the UK. To date, there are now more than 40 Razzamataz franchise schools up and down the country.
To find out more information about Razzamataz franchise simply complete the form below

Razzamataz Theatre Schools Franchise News