Razzamataz Theatre Schools Franchise
Buy one get one free with Razzamataz Theatre Schools
5th July 2010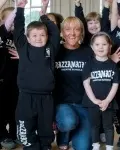 "For one franchise fee, you get the main Razzamataz school for children age 6-18 and also Razzamataz Minis for 4-6 year-olds" - Denise Hutton-Gosney, Razzamataz
Franchise opportunities don't get much better than this! Razzamataz, the part-time theatre school, is offering a superb franchise deal that will put its competitors in the shade.
The offer of two franchises for the price of one is an unbeatable offer as Director of Razzamataz Denise Hutton-Gosney explains: "For one franchise fee, you get the main Razzamataz school for children age 6-18 and also Razzamataz Minis for 4-6 year-olds. Many of our competitors will charge you for each separate school but we want to give our principals the maximum opportunity to gain the best financial rewards and we also feel that this gives a much better overall service to the children and parents at Razzamataz schools."
Furthermore, there is another opportunity for Razzamataz principals to really maximize their commitment with another exciting prospect. There will be no fee to pay for a second Razzamataz within the same territory as your first Razzamataz school. "This is a really unusual offer; many of our competitors will charge another franchise fee but we want to support our principals in every way possible and feel that by offering them a second Razzamataz school within the same territory, our principals can really make the most out of this incredible business opportunity," explains Hutton-Gosney.
Razzamataz is one of the fastest growing theatre schools in the UK. It first came to prominence in 2007 when Hutton-Gosney appeared on BBC's Dragons' Den and impressed Duncan Bannatyne who went on to offer her the full investment. There are now more than 40 part-time Razzamataz Theatre Schools throughout the UK, all successfully following the franchise formulae that Hutton-Gosney and Bannatyne have created.
This includes learning about potential turnover of £46,000 with profit potential of £26,000 with only one part-time theatre school and the opportunity for multiple schools and managed outlets. Razzamataz is also showcasing its exclusive finance package offered for 2010. If you decide to take the next step, the Razzamataz team provides a fully comprehensive training week that will include how to find the most dynamic teachers, first aid training, health and safety issues, child protection, PR and marketing, performing arts material as well as customer service.
To find out more information about Razzamataz Theatre School simply complete the form below

Razzamataz Theatre Schools Franchise News