Razzamataz Theatre Schools Franchise
Over the rainbow is there a Dorothy, Tin Man or Lion?
2nd July 2010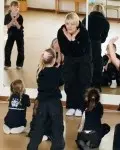 Thanks to the high profile of BBC's Over the Rainbow, little girls all over the country are clicking their ruby slippers and whispering 'there's no place like home'. But it is not just little girls wishing to be Dorothy; boys can 'put em up' as the lovable lion or try and get a brain as the friendly scarecrow.
Whether your favourite is the Witch, Tin Man or even the Munchkins, Razzamataz Theatre Schools are running summer stage academies all over the country based on the popular Wizard of Oz. Children will take part in dance, drama and singing plus also get involved with set design, stage hair and makeup and plenty more fun activities. At the end of the five-day course, children will take part in a short presentation for their family and all children will receive a recognition certificate.
If you want your child to gain new skills and build their confidence within a safe and happy environment, then contact your local Razzamataz to secure a place. Places are limited and are on a first come first served basis.
Razzamataz Carlisle Dates: (August 16th-20th) Location: (Atlas Works, Nelson Street, Carlisle, CA2 5NB) Cost: (£100 for the week for full days or £50 for the week for half days)
The summer stage academies are running up and down the UK.
Razzamataz Stage Academies can be found all over Europe with First Choice and Thomson holidays.
To find out more about Razzamataz simply complete the form below

Razzamataz Theatre Schools Franchise News