MAD Academy Franchise
BABIES AND TODDLERS ARE GOING SPORT MAD THIS SUMMER
21st February 2012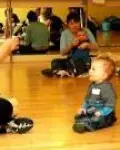 Your local music and movement groups are helping young children celebrate a summer of sport.
An amazing summer of sport lies ahead of us and already the anticipation is building.
MAD Academy, who provide high energy music and movement classes for babies, toddlers and preschoolers, will be helping children discover all about sports this coming summer term, with fun packed sessions full of singing and dance activities inspired by sporting events.
Trish Nawacki, who runs the weekly MAD Academy classes in the Reading area, is looking forward to getting the children into the sporting spirit! "It's going to be such an exciting term, as we discover all about different sporting events and nations. We are even ending the term with a fun sports party, complete with opening ceremony, races and medals!" At this sporting finale, the children and parents will have great fun and be raising money for charity as well. The money will go to the Make a Wish Foundation, MAD Academy's chosen charity, which makes wishes come true for children suffering from life threatening conditions.
Trish, who along with all her MAD Academy colleagues in other areas, will be holding one-off sporting parties in nurseries, children's centres and preschools as well, says "MAD Academy classes are always physical and active, but the sporting theme is a great way of helping young children to engage with this summer's unique sports events."
To find out more information about MAD Academy franchise simply complete the form or click the button below

MAD Academy Franchise News