Bright and Beautiful Home Franchise
GREATER MANCHESTER POLICE RECRUIT CRIME FIGHTING CLEANERS
11th April 2012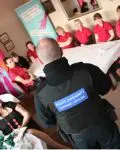 The Altrincham division of Greater Manchester Police is launching a pilot home security scheme with local domestic cleaning business Bright & Beautiful, which will help to protect the homes and neighbourhoods of Altrincham, Timperley, Hale, Bowdon and Sale.
The Mobile Homewatch scheme will use a number of the Bright & Beautiful cleaners working in the Trafford area to act as extra eyes and ears to avert crime and to spot and report potential criminal activity. Piloting the scheme with the Altrincham force, Bright & Beautiful then plan to roll out the support service to their 30 franchise offices across the UK who will work with their own local constabularies.
Inspector Clark Bowers of the Altrincham Neighbourhood Policing Team said: "Since 1 April last year, there has been 15% fewer victims of burglary in the Altrincham area compared to the same period a year earlier.
"To tackle burglary, we focus our uniformed and undercover patrols in hot spot areas at the times when most incidents take place and we regularly conduct home visits and bail checks on persistent offenders. We also work with local businesses and residents to set up schemes such as Home-watch - which allow a two way flow of information and intelligence between police and homeowners. We hope that our partnership with Bright & Beautiful will reap similar benefits. Not only will they provide an extra set of eyes and ears, but they will also be able to pass on valuable crime prevention advice to the homeowners they service."
The Bright & Beautiful cleaning business operates 30 franchises across the UK, with five covering Manchester and Cheshire. Set up in 2010 by Rachel Ray, Bright & Beautiful offers an award-winning, ethical and eco-friendly cleaning, tidying, laundry and ironing service.
Faye McDonough runs the Altrincham and Sale Bright & Beautiful cleaning teams and comments: "We pride ourselves on being highly security conscious and working with the police is really a very natural extension of the care we take to look after our clients' homes and neighbourhoods. For example, we always lock ourselves in the house while we clean and won't allow anyone into the house who doesn't live there - meter readers etc - even if they are genuine. Our teams are in these homes during the day, which is just when many burglars will take their chances, thinking that the homes are empty and we're often quite shocked by how many people leave windows and doors open, don't set their alarms or leave expensive items or keys on show in their homes. "We are very excited to be working with the police to become a valuable, on the ground addition to their team and look forward to rolling this out to other forces across Greater Manchester and nationally."
The Bright & Beautiful team undertook a crime detection training session earlier this month with Police Community Support Officers Simon Elliott and Daniel Eckersley who briefed them on crime prevention and how to be aware of potential criminal activity. Some of the key advice included:
Look out for any people or vehicles that just don't look like they should be there – people walking slowly looking up driveways; anyone calling at several doors and not being sure who they're looking for
Don't be taken in by a high viz jacket – these can be picked up anywhere but look official and many crimes are committed by people pretending to be a meter reader or highways worker
Check all door and window locks are secured and make sure cat flaps don't allow thieves to use it to hook keys that are near the door
Don't leave keys where they can be seen through a glass or patio door
Don't leave expensive bikes in view of the road
If behavior looks suspicious call 101 – the non-emergency number.
Keep an eye out for older, scruffy vans driving around. If they list a business phone number call it – many will be fake.
Encourage all homeowners to set their alarms – both in the day and at night
The pilot scheme will begin in April with plans to make it an integral part of the Homewatch scheme and to roll it out to police forces across the country.
To find out more information on Bright & Beautiful franchise simply comp the form or click the button below

Bright and Beautiful Home Franchise News