Turtle Tots
Franchise Entrepreneurs Meet Advisor to the Prime Minister at Downing Street
29th January 2016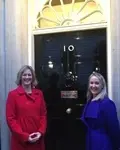 Gaby Lixton & Caroline Sparks at Number 10
Founders of award-winning baby swim programme lobby concerns on the impact of the Government's new dividend tax on small businesses.
The New Year got off to an interesting and political start for franchise entrepreneurs Gaby Lixton and Caroline Sparks co-founders of nationwide baby swim programme Turtle Tots, when they were personally invited to attend a meeting at Number 10 recently with Daniel Korski, advisor to the Prime Minister, David Cameron.
Alongside a small group of around 15 other entrepreneurs form the South West, the local business women from Backwell were keen to represent other entrepreneurs in the Bristol area to discuss the needs of small businesses on areas such as export.
As Turtle tots has recently started exporting its business in Ireland and Australia, and has visited China on a recent trade mission, the Downing Street meeting was perfect timing.
Gaby Lixton, co-founder explained:
"We took the opportunity to express our concerns about the impact of the abolishment of the notional 10% tax credit on dividends. In addition, we also asked about the recent plans that require small businesses to submit tax information to HM Revenue & Customs four times a year going forward."
Attending the meeting, which was arranged by Enterprise Nation, was a step in the right direction in making local businesses feel valued and also that the entrepreneur's views and opinions were being listened to. Amongst other topics discussed, Gaby and Caroline praised the UK Trade & Investment's Passport to Export scheme.
The Turtle Tots' swim programme offers affordable, safe, structured swim sessions for babies, toddlers and children. The emphasis is on safety, building confidence in the water at your own pace, learning new skills and most important of all, having fun.
To find out more about the Turtle Tots Franchise just click below to request your FREE franchise information pack

Turtle Tots News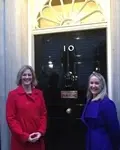 Founders of Turtle Tots Meet With New Prime Minister
24th October 2016
Founders of Turtle Tots baby swim franchise lobby the new PM on challenges for SMEs post Brexit.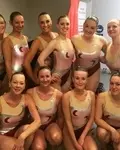 Local Baby Swim Teacher Makes Waves at the London 2016 LEN European Masters Championships
10th October 2016
Owner of Turtle Tots Surrey, Rachel Davies, competed at the London 2016 LEN European Masters Championships.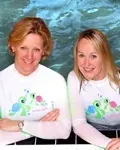 Turtle Tots affirms its ambition for global growth
31st March 2016
Turtle Tots have launched their award-winning baby swim programme in Australia.