Riverford Organic Franchise
Riverford's Franchise Conference & Awards Dinner
22nd August 2016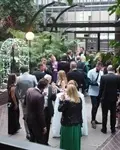 Riverford Organic Farmers held their annual franchise summer conference and awards dinner in London in August 2016.
The conference is usually hosted at one of Riverfords's network farms and has a festival theme in a big hat tipi, where casual wear and wellies are the standard attire.
This year however it was decided to glam things up a little, with a top secret London based venue and black tie dress code.
Riverford's franchisees first met for the afternoon conference at St Lukes Community Centre where they were addressed, amongst others, by Riverford founder Guy Watson and Riverford's Managing Director Rob Haward. Rob spoke about the current success of the business and updated the network on IT and logistical procedures that are coming into place to improve delivery efficiencies. Guy spoke about his role in Riverford and his plans for the company to become employee owned in the near future.
The evening began with drinks at a nearby bar and then saw all attendees guided to the secret location - The Barbican Centre, in their tropical conservatory. A three course dinner was served before the annual awards presentation, which was followed by live music and dancing until late.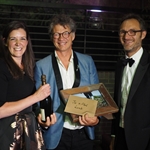 The coveted Franchisee of the Year Award went to Jo and Phil Limb of Riverford North and West Devon Home Delivery who took on a resale franchise in March 2015. They have fully embraced the Riverford model and seen their business flourish to become one of the top performing territories.
Runners up were Tim & Jacqui Rix of South Bucks who were acknowledged for their continued commitment to the brand.
The award for top customer acquisition went to Simon Harrop of Kensington and Merton Home Delivery, followed by the award for customer retention going to Gareth and Gill Rossiter of Dorset Home Delivery, and the Award for Innovation handed to Andy and Haley Dwyer of Guildford Home Delivery.
Riverford hold two conferences each year, offering a great opportunity for franchisees and key central staff to listen to business updates and future plans and to strengthen existing and build new relationships with staff and each other.
Liz Pocklington of Darlington Home Delivery said:
"As a franchised business owner it can become quite easy to disconnect from the company if you don't interact socially with your peers.
For me it's hugely important to attend these events, not just to keep up to date with what's going on within the business but to ensure I retain relationships with fellow business owners, share ideas, relax and have some fun together."
Nigel Loveridge, Franchise Services Manager said:
"The annual conferences are always a highlight for both staff and franchisees. We all work hard, so it's great to get together socially a couple of times each year. This year's award dinner was a little different as it wasn't on one of our sister farms. It was a successful evening though. Everybody seemed excited by the 'secret' location element and it was great to see everybody in evening dress for a change. I'm very happy for all the award winners. It's great to acknowledge their successes and celebrate with them."
Find out more about the Riverford Organic franchise by clicking below to request your FREE franchise information pack


Riverford Organic Franchise News