Riverford Organic Franchise
Riverford launch new look recipe video channel
12th August 2016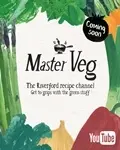 Riverford are set to launch their new veg-obsessed recipe video channel on YouTube.
The new look channel is designed to be the go-to place for anyone who needs to get to grips with the green stuff, and will be brimming with Riverford's iconic, inspiring recipes, along with tips from their cooks, all aimed to turn vegetables into the hero of the table.
Riverford were one of the first among their competitors to create recipe videos, and historically they've proven to be very popular. Although Riverford have previously featured recipe videos on the Riverford website and YouTube they've never had their own specific channel.
Through creating new short recipe and 'how to…' videos for specific veg, Riverford will be able to support existing and inspire new customers, helping them make the most of their vegboxes and increasing customer retention along the way.
They are also hoping to reach new audiences and increase brand awareness as the popularity for short recipe videos increases.
Susie Frank of Riverford home delivery Southwark said:
"This is great news for franchisees. Although I love cooking and can offer hints and tips to my customers, this is another avenue for them to find new ways to make the most of their vegboxes".
The weekly videos will also be found on Facebook, Twitter, Instagram and Pinterest, as well as on the recipe page of the Riverford website where they'll link to the full written recipe.
The starring hands featured in the videos will be those of Riverford's own band of restaurant and recipe chefs.
The channel officially launches Thursday August 18th 2016.
Find out more about the Riverford Organic franchise by clicking below to request your FREE franchise information pack

Riverford Organic Franchise News