Riverford Organic Franchise
Riverford franchisee wins Hambleton business award
27th July 2016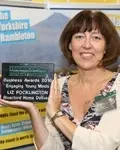 Liz Pocklington and her award
Liz & Iain Pocklington of Riverford Home Delivery, North Yorkshire and South Durham, were amongst 13 entrepreneurs who were recently recognised at the annual Hambleton awards ceremony.

Liz and Iain won the Engaging Young Minds Award for their dedication to Crayke School. Utilising Riverford's Veg Fund scheme they have helped to educate local children and parents on healthy eating, as well as helping to raise funds for the school.

Liz Pocklington says of winning the award:
"It's wonderful to have our hard work acknowledged with this accolade; it's raised our profile in the local business community which is fantastic."

The Veg Fund is Riverford's latest initiative, which aims to raise money for schools nationally, whilst educating children on where their food comes from and healthy eating.

The scheme promotes eating well by encouraging parents to try Riverford veg box deliveries. Riverford then donate £15 to the school for every new family who sets up an account.

One of Liz & Iain's own children attends Crayke School so encouraging the school to join the scheme was a natural and personal choice.

The Pocklingtons have also been promoting The Veg Fund at four other schools in the area:
"This scheme is a great initiative by Riverford as it enables us to reach new customers through championing healthy, seasonal food with children and parents, as well as providing much needed cash for the school.

As Riverford franchisees we feel well supported to grow our business and are really enjoying working on the school initiative."

Greg Penn, Business Development Manager for Riverford's Yorkshire farm said:
"It's great that Liz & Iain have been recognised for all of their hard work. They've really jumped on board to promote The Veg Fund and its fantastic to see local schools benefiting from it."
Find out more about the Riverford Organic franchise by clicking below to request your FREE franchise information pack

Riverford Organic Franchise News