Riverford Organic Franchise
Riverford Organic launch rebrand in April 2016
25th March 2016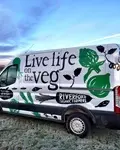 New rebranded van
Riverford has been operating since 1987, and over the years the business has grown from delivering to a handful of customers in South Devon to delivering to over 50,000 customers each week across the UK.

Riverford is now poised to enter the next exciting chapter with a rebrand. Working with the design agency Big Fish, Riverford's brand has been given a whole new look.

Working alongside Riverford's own marketing team, Big Fish were briefed to develop a new design and way of thinking that told the story of Riverford and what it stands for in a more engaging way that customers may feel better connected to. The current green logo will be replaced with a monochrome carrot shape.

Riverford's Brand & Communications Manager, Vitha Powell explains why Riverford decided to rebrand:
"We want to show the world we're mad about – and experts in – veg. We want to put our authority about veg back at the heart of our business and think this new look and refocusing on veg will help us reach as many like-minded people as possible."

When asked why a monochrome carrot logo, she continues:
"The carrot is a distinctive, memorable shape that helps us communicate who we are and what we do. We have also changed our name very slightly from Riverford Organic Farms to Riverford Organic Farmers, to celebrate the fact that we are an independent, personal business and farmers at heart."

To accompany the carrot logo, there will be colourful hand drawn illustrations of vegetables and livestock, along with interesting stories about life on the farm and how the produce is grown, picked and packed.

Riverford's network of franchisees are fully behind the rebrand and believe the new look will help to promote Riverford's products, reach and attract more customers and help grow their local business.

The rebrand will officially roll out in April 2016, followed by a new look website, cementing Riverford's new veg-centric approach.
Find out more about the Riverford Organic franchise by clicking below to request your FREE franchise information pack

Riverford Organic Franchise News