Riverford Organic Franchise
Bumper Season for Riverford Organic
13th December 2011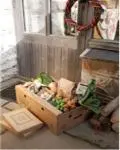 Riverford franchisees across the country will be flat out delivering boxes of festive veg in the build up to Christmas this year. Orders for the company's fresh organic produce have increased by around 38 percent compared to the same time last year, with turkey sales up 31 percent. Mince pies also performed well, with orders up 20 percent.
In addition, the company had to double the availability of its 'everything but the turkey' Christmas hampers. The new product – which included seasonal classics such as clementines, mince pies, Stilton, and cranberry sauce – was an immediate hit with families keen to avoid the Christmas crush at major supermarkets. But despite the doubling of stock, by December 1st, Riverford had sold out.
Says Laura Cottee, Riverford's territory services manager:
"This is the icing on the cake for our franchisees. It's always an incredibly busy time, but this year the order numbers are higher than expected."
So why the sudden upsurge in demand? Laura thinks it has a lot to do with increased brand awareness as the franchise network reaches maturity, the quality of the produce itself, and the implementation of consistently well-executed marketing campaigns.
She says:
"Our food is exceptionally tasty, which is the main reason the company does well. But we also work hard to make the public aware of Riverford through sustained marketing, and by entering awards that highlight our ethical credentials. For example, we recently entered and won Best Independent Retailer in the food category at the RSPCA Good Business Awards, which recognised Riverford for its exemplary animal welfare policies. And we've received a number of Observer Ethical Awards in the last three years.
As well as this, our franchisees work extremely hard in their own territories. They're the interface between the brand and the public, and are the lifeblood of the business. They do a lot of local marketing using eye-catching materials produced by Riverford's head office marketing team. They also use other marketing materials developed by us to ensure customer retention: deals on food, recipe tips for winter, advice on how to make the most of unusual veg – these are just some of the things that help to increase our level of business across the network."
Surrey franchisee, Haley Dwyer, who has been running her Riverford Organic franchise with husband, Andy, for two years says:
"We've done a lot of local marketing and PR with support from head office, and the extra effort is paying off. We have almost 1,000 deliveries to fulfill each week, sometimes in driving snow and rain, but that's all part of the fun. The increase in orders this year means we've got to work that bit harder, but we're not complaining. After the worst economic storm in living memory, we're embracing the boost in sales!"
To find out more information about the Riverford Organic franchise opportunity simply click below to request your FREE franchise information pack

Riverford Organic Franchise News