Riverford Organic Franchise
Finalists enjoy a night of glitz and glamour at the Franchisee of the Year Awards
6th October 2011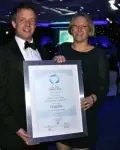 Riverford Organic Franchisees, Chris and Holly Galley were recognised for their outstanding business performance at the 2011 Franchisee of the Year Awards, sponsored by the Daily Express and HSBC, and held in September at the Birmingham NEC.
They were presented with their Franchisee of the Year Awards certificate for the South West and South Wales region, and publicly noted for their impressive growth figures, along with the business development initiatives they have implemented since they took over their franchise territory in Dorset just 18 months ago. The Awards, which 'highlight the outstanding business acumen, passion and achievement of†franchise businesses across the UK', according the British Franchise Association, were attended by hundreds of delegates from a wide range of sectors within franchising.
Says Chris: "When we took over from the previous owners, sales were declining. By improving customer care, processes and marketing methods we've increased our number of deliveries by almost 200, and pushed cash sales up by more than ten percent. Going into autumn and the busy Christmas period, I expect our veg box sales to increase even more."
He adds: "Our focus on customer service and marketing, including introducing a Dorset Riverford newsletter and setting up a Facebook and Twitter page, has resulted in a strong increase in our customer base."
Chris and Holly, who have three young children in addition to their fast-growing business are pleased with the result – even though they didn't clinch a major prize.
Says Holly: "Of course we were disappointed not to be in the top three. But with just 18 months of experience behind us, we're still a young franchise and we were up against stiff competition from more established franchisees. It was a fabulous gala dinner and we were really pleased to be there to collect our certificate. For us, that in itself is a great accomplishment."
Riverford Organic's Managing Director, Rob Haward agrees. He said on the night: "We're really proud of Chris and Holly reaching the final of the Franchisee of the Year Awards. Since they took on the Riverford franchise late in 2009 they have thrown so much energy, enthusiasm and creativity into the business. The result has been a fantastic turnaround, with turnover and deliveries up more than 10 percent on where the business was last year. These sort of results made them excellent contenders at these prestigious awards."
To find out more information about the Riverford Organic Franchise click below to request your FREE franchise information pack

Riverford Organic Franchise News