Bright and Beautiful Franchise
Bright & Beautiful Founder wins Outstanding Entrepreneur at Northern Power Women Awards
7th March 2016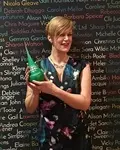 Rachel Ray receiving Outstanding Entrepreneur award
Rachel Ray, founder of domestic housekeeping franchise business Bright & Beautiful was named Outstanding Entrepreneur at the inaugural Northern Power Women Awards.
The awards, hosted by BBC Newsround presenter Leah Boleto, aim to recognise, showcase and celebrate exceptional role models who are supporting gender equality across the Northern Powerhouse region. The awards took place at the Manchester Hilton Hotel on 3rd March where 51 people were shortlisted in nine categories that had been selected from 700 nominations.
Rachel's Outstanding Entrepreneur award recognizes both the ethos and the consistent growth of Bright & Beautiful which she launched in 2007 to provide eco-friendly cleaning, tidying, laundry and ironing; with the highest standards of security and service. Since then the company has grown rapidly and now has more than 50 franchises nationwide, employs 460 people and has a £5m turnover.
Having worked in a high pressure corporate environment herself for many years Rachel set up Bright & Beautiful with the intention of being able to create an enjoyable, family friendly and professional working environment for herself and her teams.
Rachel says:
"Bright & Beautiful has always been all about supporting and empowering women which is why it is so great that our way of working has been recognized by the Northern Power Women Awards. When I launched the company I knew there had to be a better way to work than a job that left me exhausted and not able to spend the time I wanted with my family. As word spread about our services and our franchise model we have had like-minded women join us from all professions and from across the UK to run our franchises – from lawyers and teachers to models and police officers.

The thing I am proud of most in our business is that we are able to support so many women – from our clients who need their homes cared for so they can enjoy their free time to our teams who have fair employment rights and flexible working hours and our franchisees who can build their own profitable family friendly businesses. This award is a fantastic recognition of that and I am hugely honoured to have received it."
Bright & Beautiful also donates at least 10% of its profits to charity, working with Compassion International and other charities to support underprivileged families overseas. To date the company has sponsored ten children and enabled more than 50 families to set up their own microbusinesses. They have now bought a plot of land in a Rwanda to build a school for children who have previously had no access to education.
Simone Roche, founder of Northern Power Women, said:
"I am really proud that the Northern Power Women campaign is driving gender diversity and shifting the culture of business by recognising, showcasing and celebrating role models."
The award winning Bright & Beautiful business model is based around a franchise system that trains women across the UK to manage a team of specialist professional housekeepers. All of the franchises are owned and run by businesswomen who wanted to step off the corporate ladder and enjoy both their work and home lives, leaving behind the torn loyalties and guilt that can often result from trying to juggle the two.
For more information about Bright and Beautiful franchise opportunities just click below to request your FREE franchise information pack

Bright and Beautiful Franchise News