Bright and Beautiful Franchise
Rachel Ray Launches Clean Up Cleaning Campaign
1st March 2016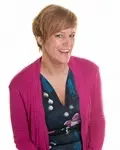 Rachel Ray
As experts warn of the health dangers of toxic household products franchise founder Rachel Ray is launching the Clean Up Cleaning campaign.
As a report this month by the Royal College of Physicians* warns of the increased danger to health of some cleaning and household products mum and founder of eco-friendly national housekeeping franchise business Bright & Beautiful Rachel Ray is launching the Clean Up Cleaning campaign to raise awareness of the deadly poisons and toxins that lurk in our kitchens and cupboards.
The UK is one of the top three countries in the world for the highest incident of allergy** and each year the number of allergy sufferers increases by 5%, half of those being children***. Today we have chemicals in our bodies that simply did not exist just a few decades ago, as a result of the ever-increasing use of chemicals and products that are polluting our homes and environments including phthalates in synthetic fragrances and air fresheners, polychlorinated biphenyls (PCBs), formaldehyde, arsenic and perfluorinated compounds (PFCs).
With the launch of the new Clean Up Cleaning campaign Rachel Ray is asking households to explore under the sink and sort through the kitchen cupboards to find and ditch the toxic cleaning sprays and liquids in favour of eco-friendly products and natural store-cupboard basics such as olive oil, vinegar and lemon juice. The average household now contains over 60 toxic chemicals, many of which have been linked to allergies, asthma, cancer and neurotoxicity. In small doses these toxins may not cause any problems but when they are continuously ingested and inhaled they build up in the body and can trigger reactions.
Manchester based mum of two Rachel launched Bright & Beautiful in 2007 after having suffered the ill-effects of using toxic products herself while pregnant. When she was looking to set up her own business Rachel researched and sourced only eco-friendly and non-toxic cleaning products, which have now been used by the 400 Bright & Beautiful housekeepers across the UK over the past eight years.
Rachel says:
"Cleaning product advertisers and manufacturers have been telling us for years that we need to eliminate dirt, annihilate dust and exterminate germs. As a result our homes have become a melting pot of chemicals and toxins that can cause asthma, autoimmune diseases, eczema and allergies.

Over the past couple of years people have really embraced clean eating and healthy food but we still fill our homes with a ridiculous amount of dangerous chemicals, and we have no idea of what the long term effects of exposure to them will be. If you look at the cleaning products under your sink a good many or them will be labeled as poisons or as hazardous to humans. These are what we're spraying near our children, into our respiratory systems and onto our food. We want people to get rid of them and replace them with more natural products that won't harm them or the environment."
A generation ago household cleaners were much simpler and they did the job just as well. Most supermarkets now offer eco-friendly cleaning alternatives or Rachel suggests a number of natural alternatives to commercial products:
Air fresheners – fragranced products such as air fresheners contain phalates which been shown to cause headaches, to trigger asthma and have been linked to reduced sperm counts. Replace with natural air detoxifiers such as plants to purify the air and essentials oils and soy or beeswax candles.


Polish - furniture and wood polish may irritate skin, eyes and the respiratory tract with chemicals including petroleum distallates, nitrobenzene and phenol. Replace aerosols and liquid polishes with olive or almond oil and use baby oil on stainless steel surfaces rather than costly specialist steel products.


Surface cleaners – these can contain alcohol as well as fragrances designed to mimic fresh smells. Use vinegar and lemon juice with newspaper as everyday surface cleaners.


Oven cleaners - the basic ingredient of oven cleaners is lye, either sodium hydroxide or potassium hydroxide, which are extremely corrosive, and can burn your skin and eyes. Use bicarbonate of soda for tough jobs like oven cleaning by mixing it into a paste with salt and lemon juice.


Dishwashing detergents and antibacterial soaps – these may contain triclosan, which can encourage the growth of drug-resistant bacteria. Cleaning often and thoroughly using plain soap and hot water will be just as effective at reducing germs and research published in The Lancet in 2015 from the University of Southampton **** reported that simple hand washing with soap and water produced health benefits over three years that included having fewer colds, flu and gastroenteric infections.


Glass cleaner and polish – these can contain ammonia, which evaporates and doesn't leave streaks. The very strong smell of ammonia can make you feel ill immediately and regular exposure can lead to lung issues and asthma. If mixed with bleach it can also create a poisonous gas. Again vinegar is a good substitute and vodka works very well to create shine on a metal surface or mirror. Toothpaste rubbed gently on and polished off works very well as an alternative silver polish.
Bright & Beautiful was established in 2007 and now has over 50 franchises operating the ethical homecare business across the UK, employing over 400 people nationally. All of the franchises, which deliver professional cleaning, tidying, laundry and ironing services, are owned and run by women and men who wanted a career that would allow them to have a better work/ life balance.
For more information about the Bright & Beautiful franchise just click below to request your FREE franchise information pack
* Source: Every breath we take https://www.rcplondon.ac.uk/projects/outputs/every-breath-we-take-lifelong-impact-air-pollution
**Source: The Allergenic Invasion, 1999
***Source: Allergy UK 2015
**** http://www.thelancet.com/journals/lancet/article/PIIS0140-6736(15)60127-1/abstract

Bright and Beautiful Franchise News