Razzamataz Theatre Schools Franchise
Dancing in PJ's and Onesies to support students in higher education
16th September 2016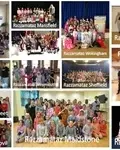 With the academic year well and truly underway, thoughts for older students are turning to career choices. From October 1st to October 8th, children across the UK will take part in singing, dancing and acting classes in their best onesies and snuggly pyjamas to raise money for a charity to help young performers through college.
As part of its commitment to its students, part-time theatre school Razzamataz launched the Future Fund charity to help finance a scholarship to train at a performing arts college. Now in its third year, the scholarship money is presented to a Razzamataz student in their final year of school looking to progress their performing ambitions after an audition judged by a panel of industry experts from the Musical Theatre and Commercial genres.
Past judges have included the former editor of The Stage newspaper, street dancer Lizzie Gough who was a finalist in So You Think You Can Dance, West End performer Peter Houston Reid, director Max Reynolds and Fi Silverthorn, dancer on Strictly Come Dancing.
The performing arts franchise business has been holding fundraising events for a number of years in order to support students with tuition fees and general living expenses. Each event will have a unique twist and this year, the emphasis was on making fitness fun.
Denise Hutton-Gosney, MD and Founder of Razzamataz, explains:
"We've just had the Olympics so there is a focus on getting children active. We found that the best way of encouraging children to partake and maintain regular exercise is to make it really good fun and doing the dance, singing and drama classes in PJs is something that really appeals to youngsters."
There are more than 40 schools across the UK and each school will have a special PJ session in exchange for a small donation. The schools will enjoy sharing photos and videos of the day and will love seeing what all the students are up to.
Denise adds:
"By making fitness fun, exercise becomes something that they look forward to and instills some good habits for the rest of their lives, leading to fitter and healthier adults."
As one of the fastest growing part-time theatre schools in the UK, Razzamataz offers a wide range of performing arts styles for children age 2-18 including current trends that are accessible to children and teenagers. Razzamataz classes consist of dance, drama and singing and the curriculum covers the whole of the performing arts, from classic West End musical theatre to street dance, pop singing and acting for camera.

Students have gone on to secure places at a wide range of prestigious performing arts colleges including the BRIT School and ArtsEd and many are appearing in professional West End shows, on TV and in films.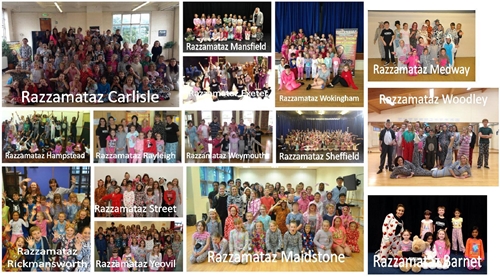 Razzamataz students performing in their PJs at a past event
Razzamataz is actively recruiting more Principals to become part of this successful theatre school franchise. For more information about becoming a Razzamataz Principal click below to request your FREE franchise information pack

Razzamataz Theatre Schools Franchise News