The Keepsake Co Franchise
The Keepsake Co ask what it is like to run your own business during the school holidays?
19th September 2016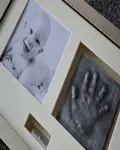 Running your own business offers huge flexibility, but what happens when the kids have 6 (or more) weeks off for the summer? The Keepsake Co asked their keepsake artists how they've found it, and loved their responses...
Toni, Cherished Little Monkeys
For me, my son had his first day at school on Monday. He's so proud that he's at 'big boy school' now! He has had half days this week to settle in so I've been around to drop him and pick him up which I wouldn't have been able to do if I still did my job in the City. Knowing that I don't have to race to book the Christmas holidays off too also brings a smile to my face. We've had some lovely days out knowing that I can catch up on work in the evening.
Holly, Magpie Memories
My little one isn't at school yet but this summer has definitely highlighted the fact if I had 'normal' 9-5 job I would really have struggled to take Josh to all his appointments which would have put stress on our family as a whole! I don't have any family close by to rely on and my husband works in the city so it's important I am there for him! We have also nailed potty training this summer and moved up to the next class in nursery! My next battle will be to hopefully delay him starting reception for a year, again something which I will struggle with but not half as much if I didn't have my own business!
Gemma, Lasting Touch
This year I have taken more time off than ever before. Now that my business is established, orders come in almost by themselves so all I really have to do is keep on top of fulfilling them and with flexible hours that really hasn't been too difficult.

Being married to a Paramedic means that we also have to work around shifts. Being able to reduce my hours over the summer means that we have been able to have family days out, and also not worry about childcare.

My kids are excited to go back to school and see their friends again and I'm excited to get back to my little studio and start gearing up for Christmas!
Carli, Mac & Maddy
Taking time off over Summer is so important for me as sometimes its so easy to get wrapped up in work and forget about the important things in life like my family and why I started my own business. Taking 6 weeks out means that I can recharges my batteries, have fun with my family and just generally love life. So when the kids go back to school I'm ready for the Christmas planning to commence!! I know that I need to work hard and promote my business by whatever way I choose, craft fairs, social media etc. Organising these to fit round my busy lifestyle suits me as then I'm not missing out on my children's milestones along my exciting journey, and my work doesn't feel like work!
Loretta, Tru Love Keepsakes
I love being able to have the opportunity to spend six whole weeks to switch off from my business and enjoy some quality time with my son. For six weeks I'm completely his and he's completely mine. I get to be the center of his world, giggles, bumps and snuggles included. This would not be possible if I did not decide to change my career direction and start my business.
If you are worried about how you would fit in a business around your family, don't. It really does work.
Find out more about The Keepsake Co franchise by clicking below to request your FREE franchise information pack

The Keepsake Co Franchise News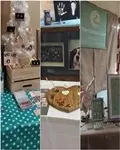 Christmas is a busy time of year for Keepsake businesses
14th December 2016
Keepsake businesses Dotty About Phoebe, The Wishing Jar and Two Green Lane, have all held beautiful Christmas stalls recently.