TaxAssist Accountants Franchise
TaxAssist Accountants Visit Australia to Support Expansion
28th March 2016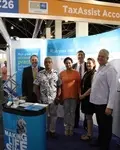 From Left to Right - James Mattam, Avendra Narayan, Rahina Narayan, David Paulson, Celeste Godwin and Terry Murphy
Senior representatives from TaxAssist Accountants report on a successful trip to Australia to support expansion.

David Paulson, Senior Manager for UK and International Recruitment, and James Mattam, Senior Business Development Manager at TaxAssist Accountants, are back from a successful trip to Australia, where they delivered training, looked for future shop sites and attended the Sydney Franchising and Business Expo with TaxAssist Master franchisees Terry Murphy and Celeste Godwin.

Terry and Celeste are business partners who have been running their own practices across New South Wales and Queensland for over 10 years and are TaxAssist's first Australian Master Franchisees. They have so far rebranded three of their existing premises in Forster, Woolgoolga and Taree into TaxAssist shops, and have taken on their first franchisee, Avendra Narayan, who has opened a shop in Liverpool, New South Wales.

David comments:
"Terry and Celeste have done a fantastic job so far in promoting the TaxAssist brand in Australia. Myself and James have enjoyed seeing how far things have come already, and offering advice and guidance on further development. The potential for both Masters and franchisees is huge in Australia, which has a buoyant small business market which is largely untapped. The franchise exhibition, at which we had a stand, was very well attended and we were inundated with enquiries, so we are hopeful that we should see more franchisees joining us soon."

TaxAssist has been operating successfully in the UK for over 20 years, and has over 280 practices in the UK and over 20 in the Republic of Ireland.
Find out more about TaxAssist Accountants franchise opportunities by clicking below to request your FREE franchise information pack

TaxAssist Accountants Franchise News