Snobby Dogs Franchise
Features
Events
Videos
Resales
Katie's new business has pooch pampering nailed
11th June 2012
POSH pooches needn't go further than a Godley groomer for the ultimate in pampering - nail varnish for dogs!
Katie Anderson decided her doggie parlour was going to stand out from the rest so created Snobby Dogs.
The 23 year old from Sheffield Road, said "I thought it was something just a little bit differe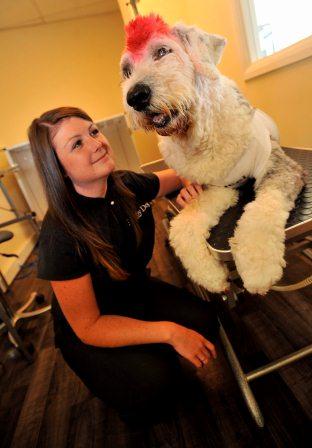 nt. People like to really look after their pets and a lot of people are now putting off having children. They treat their dogs like children and want to pamper them.I love dogs anyway and since I had my baby I wanted a bit more freedom to do something I enjoy."
As well as the usual clipping bathing and de-matting, Snobby Dogs offers pooch pedicures and nail varnish in a variety of colours.
"It's not like our nail varnish, it dries in 30 seconds." said Katie, mum to eight month old George.
The coat of Noodle, her seven year old Old English Sheepdog, is a bit long for nail paint but Katie was keen to show off the new look.
Indoor and outdoor doggie play areas will also feature at Snobby Dogs when it opens in Hyde Road, Woodley on 5 September. The salon is a family affair as it is being run by Katie and her mum Debbie Almond who also lives in Godley.
To find out more information on Snobby Dog's Franchise simply complete the form or click the button below