Tatty Bumpkin Franchise
Maria turns a passion for health and well being into a profitable franchise with Tatty Bumpkin
4th May 2011
Joined Tatty Bumpkin in September 2010
Name: Maria Mackie
Location: Horsham, West Sussex
Family: married, two children, all boys ages 6, and 8 years.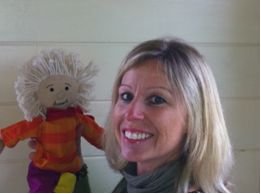 I am a mother of two beautiful girls (age 6 & 8 years) and they are the reason I now own the franchise for Horsham Tatty Bumpkin.
It was summer 2010, I was looking for a children's yoga class in my area. The girls had watched me practice yoga, pilates and different forms of exercise and wished to try out something similar. After searching and making various enquiries, nothing was local. This gave me the idea to investigate further and I came across various franchises of which I chose Tatty Bumpkin.
I've always had a passion for health and well being and to be sharing that with others, alongside being my own boss is my perfect job. I now feel extremely proud to be able to offer young babies and children in West Sussex the opportunity to experience the joys of a Tatty Bumpkin Class.
My own children currently attend one of my after school clubs and they love it! It teaches them to focus, listen, explore new yoga positions and experience a calm, relaxed state of mind and body. They do all this while using their imagination to enjoy the many adventures Tatty Bumpkin takes them on each week – it's the perfect combination of fun and learning. I can't tell you how rewarding it is to see children develop whilst enjoying themselves but also to be successful at something you really enjoy doing. I hope I can expose the healthy benefits of Baby and Tatty Bumpkin to many families as possible in my area.
My advise to anyone interested in becoming a Tatty Bumpkin Franchisee is to do your homework, ie research your area, find out your competitors. Be realistic in your goals and targets, ie check your figures – what can you charge for a class, what are your overheads. Keep your enthusiasm and energy and be prepared for knock backs – you will get them.
Be flexible in all areas, the classes are for children and therefore are child lead so don't always go as you may have a lesson planned just as the times you planned on teaching aren't always available and adjustments have to be constantly accommodated!
You will need a car, you will need time, you will also need to allow more money than the initial franchise fee for general start up costs, ie advertising, equipment, stationary etc.
In the early days you will need to build the business giving it a lot of your time for very little financial reward however you do work from home therefore it is up to you to find the right balance of life with running your own successful business. To achieve this you will need to stay motivated and driven. My family have been extremely supportive and enthusiastic which I appreciate contributes hugely towards me being able to run my own franchise and I'm very grateful to them.
I believe Tatty Bumpkin is unique and my training was just the beginning of my journey.
To find out more information about Tatty Bumpkin franchise simply complete the form below

Tatty Bumpkin Franchise Case Studies