Razzamataz Theatre Schools Franchise
Razzamataz Was The Right Opportunity At The Right Time
12th July 2009
Catherine Hayden runs her Razzamataz Theatre Schools Franchise in her local community of Yeovil. Catherine runs her Razzamataz Franchise whilst looking after her three children, and fits her classes around her families needs.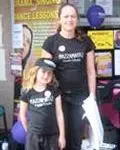 "I had been planning to start my own business and I saw Razzamataz at a time when the circumstances for me where just right. A fledgling franchise offered me the opportunity to establish and learn about running my own business with a minimum amount of risk."
"Prior to starting my own Razzamataz Theatre Schools franchsie I was a Physical Training Instructor in the Royal Navy for nearly 20 years, which has provided me with a lot of experience with dealing with large groups, but also in diet, nutrition and exercise."
"Before starting my Razzamataz franchise, I was provided with training which was sufficient for my needs and the support has consistently improved in line with the growth of the franchise nationally. The great thing about Razzamataz is its' friendly support network as there is always someone there to for advice if needed."
"The biggest challenges so far are that I launched my 2nd school 13 days after giving birth to my 3rd child by C-Section. And more recently have had to mange my business whilst my husband is serving in Bosnia for 6 months."
"Having 3 young children 7, 2 and 9 months at times has proved difficult balancing the persistent demands of the administration (accounts, customer enquiries, and merchandise orders) of the business day to day against family commitments, particularly as the majority of this work has to be completed outside 'normal working hours.' However I have approached this business methodically and professionally and so far avoided any real problems particularly as I am becoming more efficient and less pressurised as time goes by. The actual service delivery to the students is the easy bit."
"My advice to someone thinking of buying their first franchise is go for it! That said I would be careful to research the Franchise options carefully to ensure that the initial outlay and the franchise costs are reasonable. These can be significant costs and seriously could reduce the viability of a business. Choose a franchise that you share a passion for, I chose Razzamataz simply because I believe it offers a fantastic service to the Customer and is of benefit to the whole community and I can earn a good income from it."
"My plans for the future are to continue to expand my business and to make Razzamataz a success in the South West and become a network support team manger for other franchisees."
To find out more about starting your own Razzamataz Theatre Schools Franchise, click on the 'Request Information' button below.

Razzamataz Theatre Schools Franchise Case Studies