Razzamataz Theatre Schools Franchise
Razzamataz Theatre Schools Announces Franchisee Winners
6th March 2012
Razzamataz Theatre Schools is delighted to announce the winners of the Franchisee of the Year Award 2011 and the New Franchisee of the Year. Shelley Fitzgibbon, Principal Razzamataz Wokingham and Woodley was awarded the Franchisee of the Year due to her sheer utter passion and dedication to the arts and her students and New Franchisee of the Year, Lisa and Neil Roberts, Principals of Razzamataz Rickmansworth have simple taken to the business like a 'duck to water'.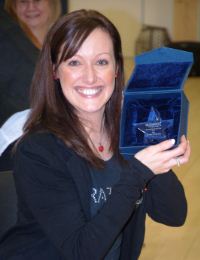 The Razzamataz Awards were set up to highlight outstanding schools and Principals and to reward the individuals who have made an exceptional commitment to the Razzamataz brand. Denise Hutton-Gosney, Founder and Managing Director of Razzamataz says: "Shelley has had huge success in both her territories within her first year in business and runs her business with the utmost professionalism and determination to do the very best by her students and the ethos of Razzamataz Theatre Schools."
The judges looked for individual Principals who excelled in many areas of the theatre school business including those who showed initiative in combating the effects of the general downturn, meeting deadlines in the creative and business side of the schools and maintaining a healthy turnover – all very difficult for a new business. "Lisa and Neil have really left no stone unturned and their attention to detail has meant that they have made a huge success of their new business, which is no mean feat in this challenging financial climate," adds Denise. "Their understanding of PR and Marketing has allowed them to launch with multiple Razz Minis classes on day one of trading and their school has grown beyond expectations in just over one term."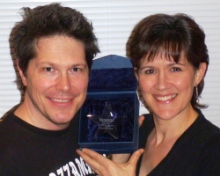 Like many of the franchisees, it is being able to run your own business with hands on support from Head Office and work in a flexible way that really appeals to the Razzamataz Principals. "It has been particularly special to me that I have found a career I absolutely love, but more importantly, one that fits around my children," explains Lisa. "I put my acting career on the back burner so I could concentrate on bringing up my two boys, but finding work that would fit around school hours has always been so hard. Razzamataz has worked perfectly for me and I am very grateful to the Razzamataz team who has helped us so much. Neil is still able to continue with his acting career as he can support the work we do while away from home although he does hate missing seeing everyone on a Saturday morning."
Razzamataz has really become a major part of Shelley's life and she says that it is the most rewarding job she has ever done, even compared to being a professional performer in London's West End. "Don't get me wrong it has been very hard work but I have never had a day when I have woken up and thought 'Uh it's Razz today'. My husband, family and our neighbours have all caught the Razz Bug and are now very much involved in supporting our shows. Receiving Franchisee of the Year is almost as exciting as getting married last year and that takes some beating!"
Razzamataz Rickmansworth opened in September 2011 and now has approximately 96 students and growing. The school's highlights include: performing at the Rickmansworth Starlight Parade in November with over 50 students and the end of term presentation for the parents, with amazing feedback about how impressed they were with the progress of their children. Although in its infancy, students from Razzamataz Rickmansworth have already won roles in an opera and two films.
Part of the Razzamataz ethos is to bring in professional performers to really inspire the students and Neil and Lisa were delighted to host the song writing master class with Jer Randall. Future plans include the introduction of the Arts Award, which counts towards UCAS points for university, more local performances, the summer school in August and joining many of the other Razzamataz branches to perform in a gala performance at Her Majesty's Theatre in London's West End.
Razzamataz Wokingham opened in September 2010 and Razzamataz Woodley opened in September 2011. In total, the two schools have more than 150 students with many of them already enjoying professional work. Shelley negotiated a Sky TV contract for ten children who will appear on a new show called Ballooniverse, which is part of the Cartoon Network.
Several students were also chosen for professional pantomimes, two were invited to attend a glittering party held at the Theatre Royal, Drury Lane to celebrate their success at winning a prestigious scholarship held in association with The Stage newspaper and 13 students passed the Bronze Arts Award. Having worked in theatre for over 10 years Shelley has been able to draw upon professional contacts. Her schools have had Master classes from West End performers from "Chitty Bang Bang" "Mamma Mia" and also a stunt workshop.
Plans for 2012 include opening a new branch, a gala performance at a local theatre, performing for the Lord Mayor as part of the Queen's Jubilee Celebrations as well as taking 30 children to the West End in November.
Razzamataz Theatre Schools gained national prominence when Razzamataz founder, Carlisle based entrepreneur Denise Hutton-Gosney appeared on Dragons' Den in January 2007 and Duncan Bannatyne invested in the organization. Since then the business has grown from strength to strength and has proved to be a very successful franchise operation. There are currently almost 40 Razzamataz branches throughout the UK and with a dedicated team in Head Office there are ambitious plans for the future.
To become a Razzamataz Principal it is not necessary to have a performing arts background or to have run a part-time theatre school previously, however you must have a real passion for the performing arts and love working with young people. The Razzamataz team provides a fully comprehensive training week that will include how to find the most dynamic teachers to sorting the accounts and even PR and Marketing. To find out more about becoming a Razzamataz Principal and to be given further information about the franchise options available including learning about the potential turnover of £46,000 with profit potential of £26,000 with only one part-time theatre school and the opportunity for multiple schools and managed outlets complete the enquiry form below, now, to find out more.

Razzamataz Theatre Schools Franchise Case Studies