Ambience Venue Styling
News
Features
Events
Resales
From Manager at Paul Smith & Ted Baker To Becoming A Business Owner!
30th May 2017
We asked Hana what she loves about being a wedding stylist. Hana joined Ambience as a stylist in January 2016.
Hana came from working in retail for over 13 years, at Ted Baker and Paul Smith. She had been in management roles for both brands, in full price and outlet stores.

"I loved working in a busy environment of the outlet stores, under pressure and helping to manage a large team.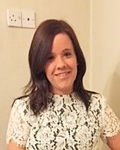 My decision on working for myself but working under a brand was based on the support I would receive from the network, not only from HQ but from other stylists. I wanted to be a part of an established name and brand from the offset and use to my advantage the knowledge and industry advice from established stylists.

The thing I love the most about my job is bringing couple's vision to life, I love the creativity and the fact that no two weddings are the same, every wedding is unique. I am lucky enough to have a good relationship with and work alongside my neighbouring stylist, so we bounce ideas off each other. Being able to work alongside some amazing suppliers is the icing on the cake! No two days are the same.

I love seeing the transformation from moodboards to set up, seeing all the different suppliers take on it. Couples are getting braver and wanting something different for their styling, which is exciting. In the industry you will always have competition so it's always refreshing looking into ways you can stand out in terms of creative.

Doing photo shoots and receiving professional photo's of your really cement the hard work and planning that went in to it. I love seeing how the photographer interprets the shoot. It's great to hear other people's feedback of the shoot, from clients to other people in the industry. Building up a network of suppliers to recommend is also a valuable achievement from doing them.

When it comes to balancing home and work life balance I struggle with this just the same as many other business owners without a doubt. It's incredibly addictive, so I sometimes feel like I don't switch off. I struggle not to check things on my phone, whether that be emails or social media. It can feel suffocating being in the same 4 walls so it feels so much better that now I am in a position where I can escape to our workspace down the road."

We asked Hana if being a stylist helped with the challenges she was facing before the world of Ambience. She said:

"I enjoy being my own boss and that I am able to have control of all aspects of business and my personal life. I am out of my comfort zone so it's really pushing me to be the best that I can."
Find out more about the Ambience Venue Styling Opportunity for yourself by clicking below to request your FREE information pack

Ambience Venue Styling Case Studies